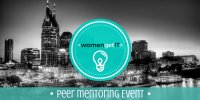 WomenGetIT - A tribe for women in tech.
Visit Us Online: www.womengetIT.net
Our Mission: To nurture lifelong careers for women in tech through mentorship, open dialogue, and sharing wisdom across generations.
What we do: We provide a community of open dialogue and peer mentoring for students and professionals in the tech industry. We provide a platform to create real and meaningful relationships. We showcase role models that inspire women to excel in their careers. We empower women through shared wisdom, strength, and guidance.
Event Details:
What you should expect: Networking will begin at 5:30pm and dinner will be provided. At the welcome table you will sign in and receive a flyer on the table leaders and the table topics. Then decide on which table you would like to sit at. This is a first come, first serve selection. Once a table is full, guests will have to sign up for their 2nd choice. The peer to peer discussion session will last about 90 minutes. Your discussion leader will facilitate discussion along the topic assigned to the table.
5:15p - Doors Open
5:30p - Networking at Dinner
6:00p - Introduction
6:05p - Table Topics Discussion Groups
7:30p - Wrap up and Networking
8:00p - Event Ends
Table leaders & topics
To Be Announced
**By registering for this event, you are granting WomenGetIT the right to photograph you and to use your filmed images and likeness(es) without compensation for any future use. We are glad that you are a member of our tribe, and we are relying on your agreement. If you do not agree, please do not RSVP for this event.**
Registrations are transferable, but not refundable.