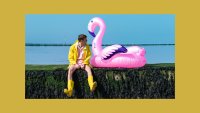 World Poetry Slam Champion Harry Baker's heart and humour has been watched by millions online and allowed him to perform all over the world, until suddenly he couldn't.
From reviewing toilet seats on-line to writing falafel-based diss tracks for Chris Evans, he's back on stage where he belongs with his most heartfelt, playful, unashamedly Harry Baker-y show yet.
"Spectacularly Witty" *****(Whats on stage)
"Blistering word play" ***** (Three weeks)
"Not one syllable out of place" ***** (The Wee Review)
"The Spell Over TheAudience Is Tangible" ***** (Broadway Baby)
"Simply put... The greatest performer on earth" ***** (BBC Radio 1)
Artist Bio
World Poetry Slam Champion HarryBaker is a poet and a maths graduate. He writes about important stuff like hope, dinosaurs and German falafel-spoons. His work has been shared on TED.com and viewed millions of times worldwide, as well as being translated into over 20 different languages. When there's not a global pandemic on he performs all over the country and has really really missed live gigs. His new collection 'Unashamed' is published with Burning Eye in 2022 and he is excited to be touring his new show of the same name in 2022/3.
"Harry Baker's intricate, quick-fire rhymes have always been on the impressive side of mind-blowing" - The Scotsman
‍Find out more....
Website: www.harrybaker.co Twitter: @harrybakerpoet
Facebook: HarryBaker Instagram: @harrybakerpoet
**Please note, these tickets are non-refundable**