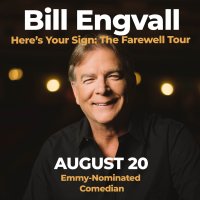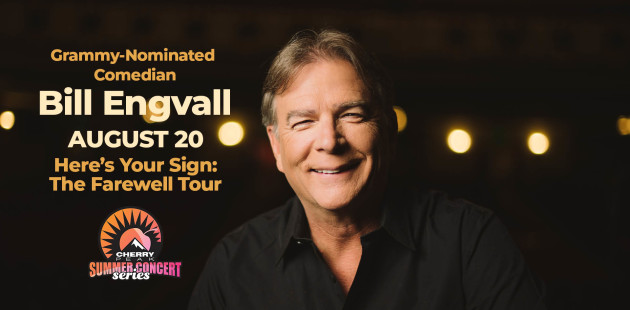 Join us in our mountain amphitheater for multi-platinum #1 comedy legend Bill Engvall.

Bill Engvall is a Grammy nominated, multi-platinum selling recording artist and comedian who became famous for his nearly universally recognized "Here's Your Sign" bit. 
In the bit that Bill is best-known for, he observes warnings on common products (like "Do Not Eat" on the stay-fresh packet in electronics) and jokes that people who need the warnings should have to wear a warning sign themselves. 

His observational comedy tromps through fun topics from relationships to getting older to the differences between the sexes without ever getting overly crass.  

Bill is one of the top comedians in the country. He played Reverend Paul on the hit FOX sitcom Last Man Standing. The series, starring Tim Allen, ran for nine seasons.
He was awarded the "2019 Casino Comedian of the Year Award" in Las Vegas, NV. Since 2016, Bill has hosted a weekly podcast "My 2 Cents" with PodcastOne which offers his funny, thought-provoking and unique perspective on just about everything. Bill's latest comedy special "Just Sell Him For Parts" is currently available on VUDU streaming service.
Bill has been a contestant on numerous game shows including Hollywood Game Night, Celebrity Family Feud and Funny You Should
Ask. He was also guest starred on Problematic with Moshe Kasher on Comedy Central. Bill was a contestant on season 17 of ABC's Dancing with the Stars, and as a fan favorite, he made it to the finals. 
Bill lent his voice to the animated comedy series Bounty Hunters, which aired on CMT. He previously starred in, and executive produced, the TBS sitcom The Bill Engvall Show. Bill was part of the enormously successful Blue Collar Comedy concert films, which sold over 9 million units and received a Grammy nomination. 
He also starred on the WB's hit sketch comedy show Blue Collar TV and in several solo specials for Comedy Central. In 2012 he reunited with Jeff Foxworthy and Larry the Cable Guy on the Them Idiots Whirled Tour, which aired as a special on CMT.
Bill's first album, Here's Your Sign, is the namesake for his farewell tour. It went platinum and held the #1 position on the Billboard Comedy Chart for 15 straight weeks. His second album, Dorkfish, also debuted at #1 on Billboard's Comedy Chart, as did his subsequent
comedy albums. 
Bill has written several books, including his 2007 autobiography Bill Engvall – Just A Guy.
A native of Galveston, Texas, Bill moved to Dallas and worked as a disc jockey with plans of becoming a teacher. While in a nightclub one evening, he tried his hand at standup comedy and found that making people laugh was truly his forte. Soon after, he moved to Los Angeles and went on to star in the Showtime special, A Pair of Joker's, hosted A&E's Evening at the Improv and appeared on The Tonight Show and Late Show with David Letterman. In 1992, Bill won the American Comedy Award for "Best Male Stand-up Comedian." He appeared in several episodes of Designing Women and co-starred in Delta and The Jeff Foxworthy Show.

Tickets are going to go fast. Get yours now before we sell out.*

Want to catch up to 6 big-name concerts in country, rock, comedy and pop of the same caliber as Bill Engvall this summer? Get season tickets now to save up to $300 off entry prices.

VENUE MAP: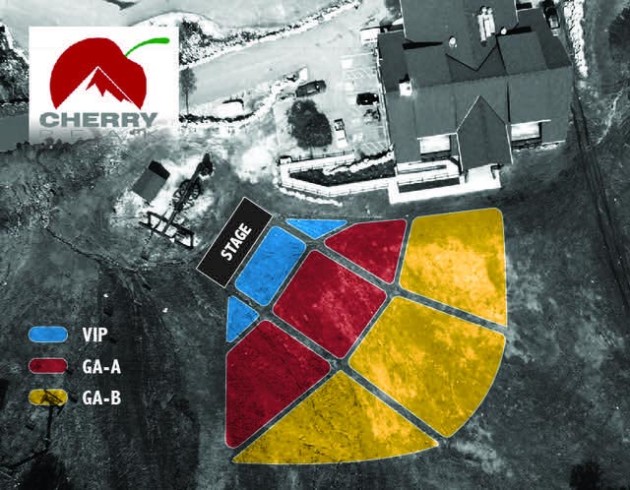 GENERAL CONCERT INFO: 
VIP AND PIT SEATING: 
The VIP and Pit seating areas are nearest to the stage. Fior concerts without a Pit area, these two areas are combined for a larger VIP seating area. Most VIP tickets include a lawn/camp style chair (not included in the Pit area *CHAIRS ARE NOT ALLOWED IN THE PIT AREA*).

Check your ticket purchase to see if your ticket qualifies for the free chair rental. You may bring your own seating, but see requirements below. Seating within the VIP section is on a first come/first served basis, so arrive early for the best possible seat. VIP seating will only be allowed up to two hours before show time. Hors d'oeuvres and soft drinks will be provided while supplies last.

GENERAL ADMISSION SEATING:
General admission seating space is virtually unlimited and includes the grassy area behind the VIP seating and beyond. Some concerts include two General Admission areas (General Admission area A and General Admission area B) with the area closer to the stage available at a slightly higher cost.

You are welcome to bring your own blankets or concert chairs for seating, provided the chairs stand no taller than 26 inches (not a standard camp chair, see photo above). We do ask that you don't take up an unreasonable amount of space for either chairs or blankets and we reserve the right to limit the size and number of blankets as we see fit in order to best accommodate all guests.

Limited seating will be available for individuals with disabilities or conditions that may require seating not in compliance with the chair regulations. Please see a member of the Cherry Peak staff upon arrival for assistance.

Please carry out everything that you carry in to help keep our facility clean. General admission seating is on a first come/first served basis, so arrive early for the best possible seating.

General admission seating will only be allowed up to two hours before show time.

WEATHER CONDITIONS AND CONCERT CANCELLATION
Rain or Shine THE SHOW WILL GO ON! Please dress appropriately for the weather conditions. Please remember that it can become cool at night at Cherry Peak Resort once the sun goes down.

If for some reason a show must be cancelled and cannot be rescheduled, we will refund your purchase minus the facility fee. 

PHOTOGRAPHY
Recording or transmitting of the concerts is strictly prohibited. Flash photography is also prohibited. Non-flash photography may be permitted. If photography is completely prohibited, an announcement will be made prior to the start of the show.

FOOD AND DRINKS
Food and beverages will be available for purchase before and during the shows. Outside food will not be allowed in the venue. NO COOLERS ALLOWED AND NO GLASS CONTAINERS.

SMOKING/VAPING
In compliance with the Utah Clean Air Act, Cherry Peak is a non-smoking facility. Smoking and vaping are permitted only in the desiganted area outside the main entrance gate. Thank you for your cooperation.

APPROPRIATE CONDUCT
We want the Cherry Peak concerts to be enjoyed by all participants. Therefore, guests are expected to dress and conduct themselves in an appropriate manner and to refrain from both conduct and language that would be considered offensive or disruptive. If you are dressed in an offensive manner, or are engaged in any type of inappropriate conduct, you may be escorted from the premises.

PETS
With the exception of service animals you may not bring pets to the concerts. Comfort animals are also prohibited.

PARKING
Premier parking passes (for parking near the lodge) are available on a limited basis for each concert and may be purchased online or in person but are anticipated to sell out quickly for most concerts. Parking with shuttle service to and from the concert area is available at locations further down the canyon for a fee of $10.

MOBILITY IMPAIRMENTS
If you or a member of your party has mobility impairments, accommodations will be made for seating a wheelchair accessible area. This includes both general admission areas as well as th VIP seating area. Notify a parking attendant or other member of the Cherry Peak staff upon arrival for further assistance. You may also call Cherry Peak Customer Service at 435-200-5050 in advance to arrange for special accommodations.

RETURNS
All ticket sales are final, but tickets are transferable and may be resold in the event you can't make it.

CUSTOMER SERVICE
Please contact info@skicherrypeak.us or call 435-200-5050 for customer service not covered by this FAQ.

DIRECTIONS
ONLY 20 MINUTES FROM LOGAN! Turn east at the stoplight in Richmond, just 15 minutes north of Logan and south of Preston. Turn north on 300 East, then east again on 500 North (which turns into 11000 North). Follow the paved road just another few short miles up the canyon to Cherry Peak Resort!

Address:
3200 E 11000 N.
Richmond, UT 84333