---
---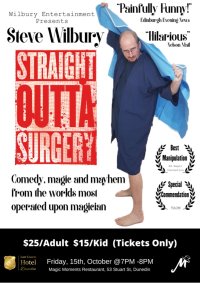 Straight Outta Surgery is the jaw dropping story of the worlds most operated upon magician.
Steve Wilbury has had 8 surgeries resulting in: 12 screws, 3 plates and one reconstructed digestive system.
Steve has been sick since he was thirteen years old but that hasn't stopped him from devising ground breaking magical methods and training in the most difficult circus arts.
Over the course of the show Steve will regale you with strange tales from the surgical wards, amaze you with international award winning magic and show how our most difficult circumstances can empower us to see life as it really is.
Steve Wilbury is an international award winning entertainer with over 20 years experience across 3 continents. From village fete days to high class corporate events and even performances for the queen.

Steve is widely recognized as one of the most innovative manipulation magicians in the country and was even awarded "best manipulation act" by the NZ Magic Association. As well as knuckle busting sleight of hand, Steve brings his own twist to classical magic routines. He infuses them with his signature enthusiasm and charm to create engaging routines that will make your jaw drop in wonder.