---
Buy tickets
Ticket Type
Price ($)
Fee ($)
Quantity
---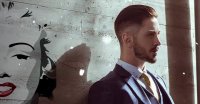 DETAILS
Opa! CarolinaGreeks.com proudly presents the Greek Independence Party! Join us on Friday March 23 for this year's celebration in the lounge @ World (located in the NC Music Factory - just outside downtown Charlotte, NC).
MUSIC
Greek & International music hits from Greece & across the globe… featuring special guest singer Nikos Ganos - Live! and direct from Greece! Support from DJ's Thanasti + Kosta X
Nikos Ganos has worked with some of the biggest names in the Greek music scene like Giannis Parios, Kaiti Garbi, Giorgos Mazonakis and Marinella. He's well known for Greek pop hit songs like "Koita ti Ekanes", Euro hit "Last Summer" (which he performed live on X Factor Greece), "Poso Akoma", "Break Me" (performed with Katerina Stikoudi at the MAD Video Music Awards), "I'm in love", and more.

ADMISSION

Ages 18+ welcome with valid ID
Presale Tickets
$8 Early Bird (Limited Quantity)
$12 Reduced Admission
Day of Event
VENUE
The Lounge @ World (located in the NC Music Factory)
900 NC Music Factory Blvd B6
Charlotte, NC 28206
• Google Maps link: https://goo.gl/maps/tvSr5Wh2CPL2
LINKS
www.carolinagreeks.com
http://worldnightclubclt.com/