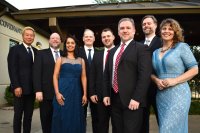 Join Ensemble VIII this season as we explore themes of light eternal, simple delights, and the power which artistic freedom has to change the world.
Ensemble VIII's 2022-2023 season includes:
Lux Aeterna - May perpetual light shine
Friday, October 14, 2022, 7:30 p.m.
The Requiem Mass has a long and rich musical history stretching from medieval chant to modern day compositions. Beginning in the 17th century, composers began to play with the texts of the Requiem itself, which opened the door for composers like Brahms and Howells to take great liberties with their settings altogether. Yet a common theme throughout all of these diverse settings is light perpetually shining upon those who are now at rest. As the world continues to grapple with the pandemic, war in Ukraine, and the devastating effects of climate change and natural disasters, Ensemble VIII offers our own Requiem for the times through a compilation of music spanning 1,000 years.

Simple Gifts - Sounds of the season for harp and choir by Britten, Rutter, and Conte
Friday, December 16, 2022, 7:30 p.m.
Ring in the spirit of the holidays with the sparkling sounds of Ensemble VIII accompanied by harp! Featuring selections from Britten's Ceremony of Carols and music of John Rutter and David Conte, old and new are met together for what will truly be a musical ornament to delight the eyes and ears. A concert for all ages, "Simple Gifts" invites you to catch your breath during this busy time of year and take in the simple yet joyful sounds of the season.

Breaking Free - Music of the German and English Reformations for voice and viols
Friday, May 5, 2023, 7:30 p.m.
Following the German Reformation in 1517 and subsequent English Reformation in 1532, not only was the church shaken theologically but music and the arts flourished in new and remarkable ways. In both Germany and England, music for the church saw creative and innovative settings of historic and new texts and tunes. At the heart of this music was a family of string instruments called the viola da gamba. Used as a consort of instruments during the medieval and renaissance periods, the viol enjoyed a relatively brief but incredibly rich era of prominence. Both Anglicans and Lutherans utilized the whole family of instruments — from the tiny treble to the large bass — to their fullest color and virtuosic abilities. "Breaking Free" explores instrumental and vocal music by Byrd, Gibbons and Tompkins from England, and music by Weckmann, Capricornus, and Georg Bach from Germany.