---
---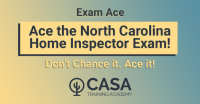 What is Exam Ace?
The Casa Exam Ace course will prep you for the North Carolina Home Inspector Exam. We've designed this course specifically for North Carolina. You'll be prepped to confidently tackle the exam including the Standards of Practice questions, which often trip students up who don't take an NC-specific pre-licensing program.
Who should take this course?
The Exam Ace course is for prospective inspectors who have completed their 120 hours of coursework + 80 hours of field training and who are taking the North Carolina Home Inspector exam.
Whether you've taken the exam before or this is your first time, Exam Ace is for you.