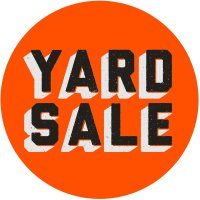 BUSHWOOD YARD SALE 2022 / SUNDAY 18th September / 11:00 - 16:00*
For the 8th year running the Bushwood Yard Sale will be bringing together neighbours, bargain hunters and decluttering desperados... A jumble sale on the streets of Bushwood and beyond. For a map of stalls click here.

A simple & safe way to celebrate our community.
Local residents are invited to set up a stall outside their homes and participate in a small community led jumble sale in the streets. This is a great way to get to know your neighbours and hang out with your friends and family. The aim of the Bushwood Yard Sale is to recycle and bring our community together. You don't have to spend much money and everything is in close walking distance. Many stalls raise money for charity in the process.
Signing up for a stall costs £5 and goes towards the cost of promoting the Yard Sale. Any profit from the money raised by Yard Sale stall registrations will go to a charity of our choice. Last year the profit of over £1200 was donated to Unicef and Teenage Cancer Trust. Stall registration will automatically close at 10am on 17th September.
"The friendly Sunday rummage is back for its sixth outing this September... Last year was a glorious day" - The Leytonstoner

Just sign up for a stall here. Once you have signed up we will add your stall to a Google map of all the stalls. The final map will be released via social media and updated every 24-48 hours. We usually print maps - but this year the maps will most likely be digital only.
We call it the Bushwood Yard Sale - but many people sign up stalls a little further afield - such as Ferndale Area and Upper Leytonstone.
BUSHWOOD YARD SALE 2022 / SUNDAY 18th September / 11:00 - 16:00*
Wander the streets for bargains or set up a stall to share your talents. Stall holders simply need to sign up to have their stall added to the map.
If you have any questions regarding the Bushwood Yard Sale 2022 or would like some digital flyers or posters, you can download a poster from this link or email us: yardsale@lovee11.co.uk
Please use the hashtag #LOVEE11 - so we can repost your stall and anything you are selling.
For updates follow us on twitter & Instagram: @E11YARDSALE // Facebook event page here.
COVID 19 Guidelines : All stallholders should abide by social distancing guidelines, including being able to take card payments if possible, keeping customers at a distance from one another, not creating any blockages/bottlenecks around the stall, providing and using hand sanitiser (or handwashing facilities if available) regularly. Face masks are advisable. Organisers of Bushwood Yard Sale will not be enforcing Covid-19 guidelines, but strongly recommend that visitors and stall holders follow Covid-19 guidelines to ensure the safety of themselves and the more vulnerable members of our community.
*DISCLAIMER: Stall holders register their stalls with Ticket Tailor and take full responsibility for their stall and its contents. Bushwood Yard Sale accept no liability for loss or damages incurred by participation in the event. Bushwood Yard Sale and it's partners promote and market the event on a not for profit basis. Stall registration will automatically close at 10am on 17th September.