---
---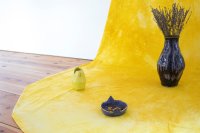 Please join us on Sunday 28 August at 4pm when Saoirse Amira Anis will be in conversation with Jamie Donald at Cample. 
Saoirse and Jamie will be in conversation to mark the closing of Saoirse's exhibition For no other reason than joy (9 July-28 August). They will talk for about 40 mins, followed by the opportunity to chat with Saoirse and enjoy some refreshments. 
'When you enter another's world you meet it with your own. I encounter the stuff of this exhibition through the lens of friendship, a privileged form of access. Saoirse and I have spoken about the lingering and often potent residues that amass upon lives formed in the shadow of the Catholic Church; we have talked about our families, and feelings of inability, anxiety, insufficiency, shame. I have seen first-hand the transformative waves and wakes that embodying this alternate self has left on her everyday being. 
I am trying hard not to think too much about Catholicism, trying to not allow its motifs to eclipse the objects in front of me, but – mirroring the shadows of the clouds outside – it creeps in and over and across the room. In the small shelves I glimpse altars, home altars, adorned with a tentative selection of offerings and devotions; in the blank, golden, flaking frames I see halos encased by shimmering Baroque ornamentation.' Jamie Donald, exhibition text, Saoirse Amira Anis, For no other reason than joy. 
---
Jamie Donald is an artist, writer and curator based in Dundee. She has served on the committee at GENERATORprojects (2019–2021) and is a
founding member of Wooosh Gallery (2019–). She has written for MAP Magazine and Front Left Scotland.