---
---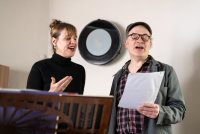 Saturdays 17 September, 8 October and 29 October, 11am to 3.30pm
Book as many days as you want, 1, 2 or 3.
These popular day workshops are designed to explore a range of music written for women's voices, and look at ways in which we can increase our singing confidence and make a fantastic sound together.

Each workshop will look at how your voice works and how to get the most from it, as well as giving you the opportunity to experiment with your range.

Sian has worked alongside a whole range of amazing composers and performers and will draw on her experience to share a selection of traditional and contemporary music, including songs from the USA, the Republic of Georgia and the UK.
Prices per day:
I day £45 Standard / £35 Concession / £55 Donation rate
2 days £85 Standard / £65 Concession / £105 Donation rate
3 days £125 Standard / £95 Concession / £155 Donation rate
In order to cover ticketing and paypal fees you will be charged a 50p booking fee when you pay.