---
---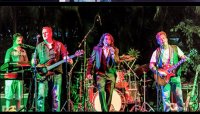 JOURNEY & STYX Tribute Show / TWO tributes shows in ONE!
MAJESTY OF ROCK is a mega talented group of musicians who faithfully re-create the exact sound of two super groups. Fronted by the masterful voice of John D'Agostino & the talents of four exceptional musicians not only capture every nuance of JOURNEY & the iconic voice of STEVE PERRY but also emulate the voices of DENNIS DeYOUNG & TOMMY SHAW of STYX.

Journey biggest selling hits: Don't Stop Believin' Any Way You Want It, Wheel in the Sky, Girl Can't Help It, Faithfully, Lovin' Touchin' Squeezin', Lights, Who's Cryin' Now, Stone in Love, Separate Ways & more.

STYX biggest hits: Renegade, Come Sail, Away, Lady, Mr. Roboto, Babe, Too Much Time, On My Hands, The Best of Times, Blue Collar Man, Fooling Yourself, Suite Madame Blue & others.

$25 Cover Charge / $10 minimum purchase per person required
Early Bird: 20% discount regular dinner menu (Specials excluded) 5 to 6pm daily
Happy Hour: 50% discount on house wines, wells, dom. draft beers 5 to 6pm daily
For assistance with reservations call 239-549-3000
CLICK HERE to receive our weekly email specials and entertainment schedule

There are two parking lots close-by. One is on the East side of our building & the other is on the West side of Vincennes Blvd. in the next shopping center. Usually, it is easier to find a space in this lot.