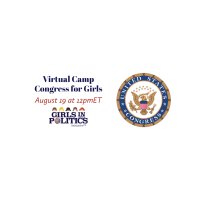 Virtual Camp Congress for Girls is a live interactive online class that introduces girls ages 11 to 16 to politics. Virtual Camp Congress for Girls begins with a lesson on the structure of the United States political system. Each student will choose to run for a seat in the US House of Representatives, the US Senate or for the presidency. She will create her own campaign with a platform, campaign finance donor list and a campaign poster. All campers will register to vote and then cast a virtual ballot in for our virtual President and Vice President. Our virtual Congress will be sworn-in as will the President and Vice President. The newly installed members of Congress will learn how to introduce a draft a bill, debate the merits of the bill, collaborate with the Executive branch and finally vote on the proposed bill. Class will culminate with a virtual signing of the bill by our Ms. President. Looking for more events? View our 2022-2023 schedule at https://buytickets.at/girlsinpoliticsinitiative
Registrants will receive an a .pdf file of the workbook and instructions for completing the campaign poster via email.  Participating Girl Scouts will earn a democracy badge.
The class will be hosted on GoToMeeting and will run 4 hours including two 10 minute breaks. For additional information contact us at +1 866-226-5911 extension 1, via email at info@girlsinpolitics.com or visit our website at www.girlsinpolitics.com.
Frequently Asked Questions
Is the registration fee refundable? The registration fee is non-refundable unless the GIP cancels a class. If a participant is unable to attend a class a credit will be placed on file with GIP that may be used at any time for a future class. The credit may be used one-time class transfer and the credit does not expire.
Where is the class hosted? The class is hosted online using the GoToMeeting platform.
Is this a partisan program or supported by a political party? No, the Girls in Politics Initiative is a private company that is self-funded through the fees generated from hosting sessions.
Is financial aid available? Financial aid is available on a first come, first serve basis. Email finance@girlsinpolitics.com to request financial aid.
Who are the instructors? Our Lead Instructors are women that currently or have previously worked in government or electoral politics. Our support staffers are current or former licensed teachers. Our instructors and support staff have undergone criminal background checks and have WWC cards in Australia.