---
---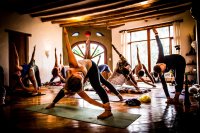 This Booking is for the in-person Yoga Teacher Training in Tumbaco, Quito, Ecuador. It includes the course, lodging, and all meals.

Do you want to experience a holistic Tantric yogic path? – Become your own guru.
Do you want to connect with your sexual energy to create a deeper intimacy from the power of the heart?
Do you want to learn tantric and shamanic rituals for self empowerment?
Do you want to understand that life is art and you can create your own reality?
Do you want to trust in community where you can be not only blissful but also accepted in your anger, sadness and fear?
Would you like to discover bliss in everyday moments?
Become a creative, vulnerable and powerful Yoga Teacher!
Please, check all the details of the Teacher training here: https://www.durgastigertantrayoga.com/200-hour-yoga-teacher-training/