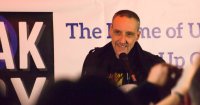 SPEAKEASY COMEDY CLUB PRESENTS

An Unbridled Extravaganza of Uncensored Hilarity
Featuring An Uproariously Funny

SPECIAL GUEST
Who will MC for

THREE TOP QUALITY 'CANCELLED' COMICS
Tickets: £15.00 Donation
Just like back in the day, you won't find out the address of the venue until the day of the gig, when you will receive an email with the details.
There will be a bar at the event selling drinks and bar snacks.

All Rights Reserved under the Treaty of Universal Community Trust | A Snowflake Free Zone
For more information, see: https://www.speakeasycomedy.org/
STAND-UP COMEDY ON DEMAND | Terms & Conditions
Please be advised that every Speakeasy line-up and date is subject to change, since our clubs run on demand when enough tickets are booked in advance to cover all out costs.
If the minimum booking threshold is not reached, the date of the show may be changed. Full refunds available by emailing orders@a-fp.net and cancelling your booking.

All tickets purchased are still valid for any new dates listed.