---
---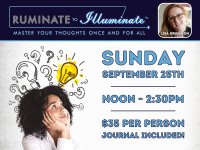 An interactive workshop from Purpose Journey® Founder Lisa Gruenloh
Do you ever feel that your thoughts and feelings are managing YOU, rather than you managing them?
Unhealthy, unproductive rumination can lead to a sense of ruination in our personal well-being, relationships and professional success when left unchecked. And it manifests in all kinds of frustrating, uncomfortable and depleting ways.
Persistent negative thinking patterns, while a rather common aspect of the human experience, can lead to emotional stress, mental fatigue and painful physical conditions that steal our peace, joy and ability to focus on what's most important to us. Whether your challenges with rumination are short-term and situational or have been a long-term, persistent pattern, you can learn new, more skillful ways of thinking, feeling and being based in positive psychology, neuroscience and enduring wisdom traditions.
The Ruminate to Illuminate™ workshop utilizes evidence-based tools and techniques to help you:
Identify unproductive thought patterns that sabotage your happiness and goal achievement.
Learn to quickly differentiate between unproductive rumination that keeps us stuck in fear and judgment versus productive rumination that helps us explore difficult thoughts and emotions to grow, find a gift in the experience and/or do better next time.
Practice techniques to intercept and quiet the saboteur voices that generate stress and become obstacles to our well-being and success.
Cultivate emotional intelligence and mental fitness competencies powered by your inner sage to fully express the best version of yourself and pursue the highest vision for your life.
The workshop includes:
A free Positive Intelligence Saboteur Assessment to take prior to the workshop to help you identify your unique mental saboteurs (print your results and bring them with you)
Engaging activities that put the "fun" in "functional" and create connection with yourself and others
A Ruminate to Illuminate™ writing journal, the latest in our collection at purposejournal.com

Lisa Gruenloh, MPAP, CPC is an International Coaching Federation (ICF)-certified executive and emotional intelligence coach, a Positive Intelligence coach, and purpose-driven entrepreneur. She's Founder and President of Purpose Journey®, a consulting, training and coaching company that helps individuals and organizations harness their unique values, strengths and purpose with bold action to optimize their well-being and impact. Learn more at www.purposejourney.com and www.purposejournal.com.