---
---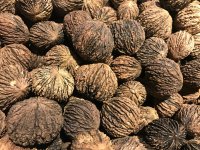 Stay up to date with nut growing in New York and meet experienced growers! 
Register to attend the New York Nut Growers Association 2022 Fall Meeting on October 8 in Cayuga County. 
The main program will take place at the Finger Lakes Nut Farm, 5287 Booth Rd, Locke, NY, 13092.  Breakfast starts at 8:30 am and the program begins at 9:00 am. Presentation topics will include winter protection for nut trees, interplanting among nut trees, information about the NYS Regenerate grant, hot pipe callusing for grafts, a demonstration of making shaker pans for sizing hazelnuts, an update on the NYNGA English Walnut Project and an example of sharing land through a conservation easement. Taste testing nuts will be available during breaks. The meeting will feature an afternoon demo of the harvesting, processing, and marketing of chestnuts presented by host Marvin Russell ("Rusty"). An optional late-afternoon sawmill tour on the nearby forest property of Ed Neuhauser at 434 West Groton Rd., Groton, NY will close out the event. We request that all participants bring their own camp chairs and suggest that those who attend the sawmill tour wear insect repellent clothing and bring waterproof boots.

The New York Nut Growers Association is an all volunteer, non-profit organization that promotes nut tree growing in New York State. It's not necessary to be a member of the New York Nut Growers Association (NYNGA) to attend this meeting. A light breakfast and lunch are included in the $20.00 cost of meeting registration. Pre-registration is required to facilitate meal planning. Pants, socks and comfortable walking shoes or boots are suggested. NYS Department of Health requirements will be followed.
Please bring samples of nuts from your trees and other items for sharing, for sale, and for stratifying.

For questions, contact Jerry Henkin, NYNGA President, sproutnut@aol.com, (914) 282 - 1371.