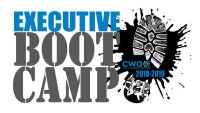 The California Workforce Association 2022-23 Executive Boot Camp session fee is $2,950. CWA Executive Bootcamp covers a total of 60 hours of content and learning, including a final capstone project that will be presented at the CWA Meeting of the Minds in Monterey conference. CWA Executive Boot Camp meets over the course of a year, 4 - quarterly, single day sessions. Breakfast and lunch, and all session materials are included with the Executive Boot Camp fee.
*Please note that due to COVID-19, structure of the sessions' (in terms of in-person and virtual) are probable to change.
The CWA Executive Boot Camp is a Member Only exclusive offering, if you are currently not a California Workforce Association Member it is quick and easy to join. We offer Individual & Affiliate packages to join now go to: http://calworkforce.org/join-cwa/
Registration for the 2022-23 Executive Boot Camp closes Friday, November 18th, 2022
2022-23 Sessions Dates
December, 2022 - Sacramento, CA
March, 2023 - Sacramento, CA
June, 2023 - Sacramento, CA
September, 2023 - Monterey, CA.
Note: Dates precede the CWA quarterly board meetings
As the Bootcamp sessions precede CWA's Quarterly Board Meetings, Bootcampers have the opportunity to attend the CWA board meetings to gain additional executive workforce capacity building and networking. Note: Special Meeting of the Minds in Monterey conference discount is offered for Executive Boot Camp attendees.
For any additional CWA Executive Boot Camp session questions, or challenges with registration please, contact Program Director, Matthew Hayes at mhayes@calworkforce.org

To review the current session details and facilitators go to http://calworkforce.org/executive-boot-camp/