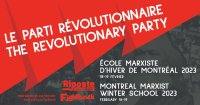 * INSCRIVEZ-VOUS DÈS MAINTENANT AU PLUS GRAND RASSEMBLEMENT MARXISTE AU QUÉBEC ET AU CANADA. * REGISTER NOW TO THE LARGEST MARXIST EVENT IN QUEBEC AND CANADA. *

[English follows the french.]
En 1938, Léon Trotsky disait : « La crise historique de l'humanité se réduit à la crise de la direction révolutionnaire. » Alors que la crise historique du capitalisme s'approfondit, pousse des millions de gens à la misère et menace la survie de la planète, ces mots sont d'autant plus vrais aujourd'hui. Dans les dernières années, nous avons vu des mouvements révolutionnaires dans bien des pays mais, en raison du manque de direction révolutionnaire, ces mouvements ont ultimement été défaits. Il est donc urgent de construire le parti révolutionnaire qui puisse intervenir dans le mouvement ouvrier et auprès de la jeunesse. L'organisation révolutionnaire est une arme vitale dans la lutte pour vaincre ce système pourri et instaurer une société socialiste, basée sur les besoins de la majorité plutôt que les profits d'une minorité.

Afin de nous orienter dans cette tâche, l'École marxiste d'hiver de Montréal est devenue au fil des ans un rendez-vous incontournable pour l'éducation des militants révolutionnaires de partout au pays et d'ailleurs. L'an dernier, notre édition en ligne a réuni près de 1200 participants. Pour cette 13e édition de l'événement, nous souhaitons réunir 500 participants, en personne à Montréal, pour discuter des méthodes, des idées et des leçons historiques qui peuvent nous guider dans la construction du parti révolutionnaire.

Comme l'a déjà dit Trotsky, les idées sans une organisation sont comme un couteau sans lame. C'est pourquoi La Riposte socialiste/Fightback, la section canadienne de la Tendance marxiste internationale, existe et fait de la lutte pour la clarté politique notre priorité. À lui seul, un militant socialiste ne peut rien accomplir. Mais sous une bannière commune, avec un programme et des idées communes, nous pouvons avoir un impact immensément plus grand que comme militants isolés.
LUTTONS POUR LA RÉVOLUTION SOCIALISTE! CONSTRUISONS LE PARTI RÉVOLUTIONNAIRE!

Sujets de discussion
Cette année, l'école proposera huit discussions inspirantes parmi lesquelles vous pourrez choisir. Toutes les discussions seront présentées en anglais et en français avec traduction consécutive. 
Ted Grant et la Quatrième Internationale
Marx contre Bakounine : l'histoire de la Première Internationale
La Révolution espagnole de 1936
Les leçons de la Révolution indonésienne
La lutte pour un parti ouvrier aux États-Unis
En défense d'une presse révolutionnaire
Pourquoi l'Union soviétique s'est-elle effondrée?
Que faire? La scission Bolchevik/Menchevik
DÉTAILS DE L'ÉVÉNEMENT ET INSCRIPTION (Veuillez lire attentivement toutes les informations suivantes avant d'acheter vos billets.)
Lieu et hébergement
Plus de détails (sur le lieu précis, l'hébergement suggéré, etc.) seront fournis dans les semaines à venir.
Prix des billets
Le prix de base de l'école est de 120 $ pour les Montréalais et de 60 $ pour les personnes venant de l'extérieur de Montréal. Ce prix comprend le dîner et le souper du samedi ainsi que le dîner du dimanche.
Le prix de base est établi afin que nous puissions rembourser sans déficit les dépenses prévues pour l'événement, lesquelles ont augmenté considérablement en comparaison des années passées. Comme nous avons besoin d'un plus grand espace pour accueillir autant de gens, les frais de location qui y sont associés sont particulièrement élevés. Nous devons également augmenter notre budget pour la nourriture, pour tenir compte de l'inflation galopante. Nous devons aussi débourser pour les frais de déplacement des présentateurs internationaux, dont la participation permet d'enrichir les discussions politiques. Enfin, comme nous ne voulons pas que les finances constituent une barrière à la participation, nous allouons un certain montant pour accommoder les participants qui ne pourraient pas payer en totalité les frais.
Prix de l'autobus
Nous organiserons également le transport aller-retour en autobus pour ceux qui souhaitent se rendre depuis Toronto. Le prix du billet d'autobus est de 120$. Ce montant s'ajoute au coût du billet d'entrée.
Si vous n'êtes pas certains que vous allez prendre l'autobus, vous pouvez acheter seulement le billet et revenir plus tard sur cette page pour acheter le billet d'autobus séparément. Toutefois, faites vite, car les billets d'autobus sont limités !
Subvention
Nous ne souhaitons pas que les finances soient un obstacle à la participation à cet événement et personne ne sera refusé pour des raisons financières. Veuillez nous contacter à lariposte@marxiste.qc.ca ou 438-722-3501 pour obtenir une subvention. 
++++++++++++++++++++++++++++++++++++++++++++++++++++++++++++++++++++++++++++++++++

In 1938, Leon Trotsky said: "The historical crisis of humanity is reduced to the crisis of revolutionary leadership." As the crisis of capitalism deepens, pushes millions of people into misery and threatens the survival of the planet, these words are even more true today. In recent years, we have seen revolutionary movements in many countries, but due to the lack of revolutionary leadership, these movements ultimately ended in defeat. It is therefore urgent to build a revolutionary party that can intervene in the labour movement and among the youth. The revolutionary organization is a vital weapon in the fight to overthrow this rotten system and establish a socialist society, based on the needs of the majority, rather than the profits of a minority.
To guide us in this task, the Montreal Marxist Winter School has become over the years an unparalleled educational event for revolutionary activists from across the country and beyond. Last year, our online edition brought together nearly 1200 participants. For this 13th edition of the event, we hope to gather 500 participants, in person, in Montreal to discuss the methods, ideas and historical lessons which can guide us in the building of the revolutionary party.

As Trotsky once said, ideas without organization are like a knife without a blade. This is why Fightback/La Riposte socialiste, the Canadian section of the International Marxist Tendency, exists and makes the fight for political clarity our number one priority. One socialist activist alone can accomplish nothing. But under a common banner, with a common program and ideas, we can have an immensely greater impact than as isolated activists.
FIGHT FOR THE SOCIALIST REVOLUTION! BUILD THE REVOLUTIONARY PARTY!

Discussion Topics
This year's school will feature eight inspiring discussions to choose from. All discussions will be presented in English and French with consecutive translation.
Ted Grant and the Fourth International
Marx vs. Bakunin: History of the First International
The Spanish Revolution of 1936
Lessons From the Indonesian Revolution
The Struggle for a Workers Party in the US
In Defense of a Revolutionary Press
Why Did the Soviet Union Collapse?
What Is to Be Done? The Bolshevik/Menshevik Split
EVENT DETAILS AND REGISTRATION (Please read all of the following information carefully before purchasing your tickets.)
Location and accommodations
More details (about location, suggested accommodations, etc.) will be provided in the coming weeks.
Ticket prices
The base price for the school is $120 for Montrealers and $60 for people from outside Montreal. This price includes lunch and dinner on Saturday and lunch on Sunday.
The base price is fixed to cover the expenses of the event, which have increased dramatically in comparison to past years. Since we need a larger space to accommodate this many people, the associated rental costs are particularly high. We also need to increase our budget for food to keep up with inflation. We also need to spend money on travel expenses for international presenters, whose participation enriches the political discussion. Finally, because we do not want finances to be a barrier to participation, we are allocating a certain amount to accommodate participants who would not be able to pay the full cost.
Bus fare
We will also be arranging round-trip bus transportation for those who wish to travel from Toronto. The cost of the bus ticket is $120. This is in addition to the cost of the admission ticket.
If you are not sure whether or not you plan to take the bus, you can purchase the ticket alone and then come back to this page later to purchase the bus fare on its own. However, be sure to act fast, because bus tickets are limited!
Subsidies
We do not want finances to be a barrier to attending this event and no one will be turned away for financial reasons. Please contact us at lariposte@marxiste.qc.ca or 438-722-3501 to apply for a subsidy.