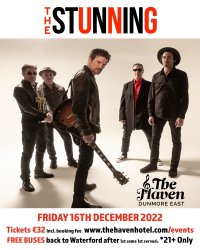 THE STUNNING @ THE HAVEN

During the early nineties, the biggest Irish band in the world was U2, but in Ireland, it was The Stunning. 
In the seven years they were initially together, they toured relentlessly, building up a following that would make them one of the most successful Irish bands ever.
Their debut album, 'Paradise in The Picturehouse' spent five weeks at number one and became one of the most-loved Irish albums of all time. 
They've had numerous hit singles, including Brewing up a Storm, Half Past Two, Romeo's On Fire, Everything That Rises, Heads Are Gonna Roll and more recently, Brighten up my Life. 
During their time, the band scooped every music prize and award going, and they are still rarely off the airwaves. They toured the US and the UK with the likes of Bob Dylan and the B52s, and these days they play just a select number of shows each year. 
We are delighted that one of those will be at the Haven Marquee on Friday, 16 December.

Doors 7.30pm
Unreserved seating and standing.
******Strictly over 21s only******
FREE buses to Parnell St, Waterford from directly outside the Haven at 11.30pm and 12.30am *Buses are on first come first served basis.
***Tickets are non-refundable***