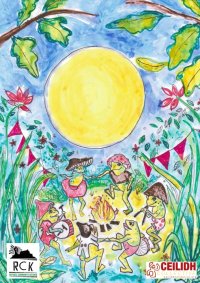 The Greater Spotted Ceilidh Band will be leading us through the night. The four-piece band includes fiddle, flute, banjo, and bodhran, with the dances expertly called.
We're set for a healthy broth of Irish, Scottish, American and English jigs, reels, hornpipes, waltzes, polkas and more. The band have a great respect for the tradition and its bearers as well as the continuing inspiration and creativity that keep the tradition alive. They play ancient tunes alongside contemporary and self-penned music with delight. The sets also features a fair few songs, from fast paced Gaelic mouth music to soulful waltzes and foot stomping bluegrass tunes.
Yes, the Greater Spotted Ceilidh Band bring you all the well-known steps but also less familiar dances from old books and passed-down memories. They've got easy ones for the kids and newcomers, and proper fast ones for the enthusiastic, and might even throw in a game or two if the mood is right. The Greater Spotted Ceilidh Band also looks out to the music and dance of other places, and are keen to incorporate more Breton, Swedish and other European dances. 
Alongside the music and dance we have a celebration of ten years of Edinburgh's own wholefood co-operative just over the way in Marchmont: The New Leaf Co-op. A decade of supplying a huge ethical range of goodness to locals and visitors. 
The New Leaf Co-op opened its doors on October 10th 2012. There had been a pre-existing wholefood shop called The New Leaf on Argyle place for many years already, but this sold mainly pre-packaged goods and was only in one room. They were all interested in worker-run, non-hierarchical structures, and so a co-operative seemed like a natural choice.
They began dreaming up the idea in around Feb 2012, and began a whirlwind journey of learning, planning, begging, borrowing, making and doing. They became a coherent group of five, and crowd-funded start-up funds, receiving an amazing response from supportive friends, family and community members who chipped in amounts between £10 and £10,000 to help us reach their targets. 
To help celebrate their ten years, Co-op members are inviting all at the ceilidh to add good wishes to their bough under which we'll be dancing to the wild tunes. And they are donating all proceeds from the event to the charity, Refugee Community Kitchen (RCK).
This event is fundraising for Refugee Community Kitchen (100% of profits from bar, door, raffle, and food, goes to the work of RCK). RCK will be preparing a simple hearty meal for all early birds at £5 per head. You can pre-pay with your ticket now (to help with plannings) or pay on the night. RCK support displaced people in Northern France and homeless people in London and Edinburgh. They give people more than a hot meal, they also give them a place to gather and connect. Somewhere to recreate a community - providing spaces for medical and legal services, safeguarding groups and other support organisation and people in need to meet.
The ceilidh collective has been organising ceilidhs and fundraising for grassroots organisations and charities since 2003. We're delighted to be working with The New Leaf Co-op on this event (they have been our physical box office for most of our events since they opened their doors ten years ago...). We'll have our local, organic bar. run by volunteers for you to enjoy a craft ale, mulled cider, fruit wine, local apple juice or more...
We really hope you can join us all on Saturday 22 October 2022.
Book your tickets now - we only have 150 places. To the music, the dance, the blether, the toast, to our community.