---
Buy tickets
Ticket Type
Price ($)
Fee ($)
Quantity
---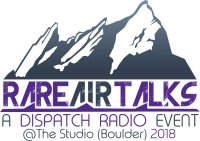 Presented by Colorado Outdoor Recreation Industry Office
Featured speakers:
Luis Benitez - Director, Colorado's Office of Outdoor Recreation Industry. Accomplished mountaineer.
Jamie Logan - Transgender climber who's roped up with the greats since the 1960s.
After-party at Upslope Brewing 8-10pm. Your ticket gets you a free beer there!
Also sponsored by Jennifer Egbert Modern Luxury Real Estate, Real Athlete Diets (RAD), Mohave Creative, Hustle.Technology, Upslope Brewing
Media partners: Elevation Outdoors, KUNC
Powered by Dispatch Radio, Rare Air Talks is a new live event and community forum for ideas and inspiration drawn from the outdoors. Once a month from The Studio (Boulder), we gather leading voices for an evening of storytelling and community.