---
---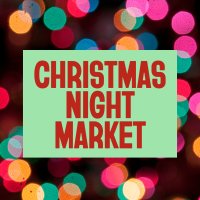 The Festive season is here and we are so excited!
Join us for a very special night-time market to get you into the Christmas spirit! Our favourite artists and makers are back, browse stalls, grab yourselves a cheeky pizza from our faves 'The Slice is Right' and hang out with your friends for a tasty boozy shopping experience.
Our very own brew 'Reluctant Hero' will be on tap...a nice hazy pale ale for all your beer lovers and the decks will be out for all you music lovers too.
There'll be mulled wine, seasonal cocktails and treats at the bar all housed within our very own wonderland that will definitely sparkle this December.