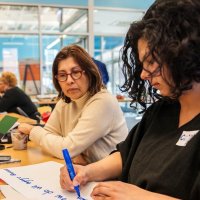 The Technology of Participation (ToP) is a world-renowned collection of structured facilitation methods that transform the way groups think, talk, and work together. They enable highly energized, inclusive, and meaningful group collaboration that leads to successful outcomes.  ToP supports genuine participation, which leads to long term commitment and quality outcomes, as well as more effective teamwork. Developed and refined by the Institute of Cultural Affairs, ToP Methods recognize and honor contributions from all group members, identify commonalities, and pool contributions into useful patterns - all while welcoming diversity and minimizing conflict.

This course provides an intensive 3-day experience in learning to apply ToP methods. This unique format is for individuals who want training that includes both an understanding of these methods alongside hands-on experience with ToP Methods in order to deepen their capacity and confidence to use them in their work.

Schedule and Format
The class meets Wednesday, Thursday, and Friday from 8:30 AM - 5:00 PM (Pacific time) and covers one method each day:
Day 1: Focused Conversation – a structured approach to meaningful conversations to increase awareness of differing perspectives and foster a deeper understanding of any topic.

Day 2: Consensus Workshop – a method to leverage collective thinking to enable individuals to expand their perspectives, identify areas of group agreement, and gain comfort in moving forward with practical and creative solutions.

Day 3: Action Planning – the integration of both the focused conversation and consensus workshop methods in a dynamic process to enable any group to create actionable plans that include ownership, timelines, and success measures.
This comprehensive three-day course provides the knowledge, comprehension, and skill practice necessary to immediately apply a rich learning experience back on the job. The curriculum includes structured reading reviews, active participation, discussion, and debriefing of professionally-led demonstrations. Participants then put the methods into use by designing and co-facilitating processes during the training.
Who's This Course For?
Whether you are a new or seasoned leader, in this engaging course you will learn creative, fresh and powerful ways to inspire your staff to effectively meet your organization's goals. The course is ideal for leaders who want higher engagement, motivation, and greater results from teams and anyone who desires more hands-on learning to apply facilitation methods:
Managers and Supervisors
Executive Directors and Board Members
Project and Team Leaders
Educators and Health Practitioners
Active Citizens and Community Workers
Facilitators, Trainers, and Consultants
Government Employees and Elected Officials
Comments from Previous Participants
"ToP training is rigorous, powerful and well worth the investment! We trained our entire management team to use ToP Facilitation Methods and have been using them all over the organization. ToP has given managers an important tool that strengthens the culture of participatory decision making and promotes staff acceptance and enthusiasm for organization initiatives and change."
—Elizabeth Carty, MSW, Chief Operating Officer, Center for Elders Independence
"ToP facilitation training...was by far the best quality and most useful training I have participated in over the years. The co-[trainers] really bring the subject alive and help teach through applied learning."
—Heather Ficht, Executive Director, East Cascades Workforce Investment Board

Prerequisites
None
Continuing Education Credits
16.5 NCHEC (CHES & MCHES)
14.5 AICP (APA)
14 PDU (CAPM)
Trainers
Becky Foreman – Becky specializes in professional facilitation, training, and consulting to help organizations of all sizes develop practical, sustainable strategies that build consensus and shared ownership among stakeholders. Her work focuses on government, education, and non-profit organizations. Prior to becoming a full-time consultant, she served as Executive Director of the Inland Counties Health Systems Agency in southern California. In that role, she was responsible for six major health programs throughout a four-county area encompassing some of the most underserved populations in California.
Rod Githens, PhD – Rod's specialties lie in facilitating groups facing complex challenges. His work includes facilitating transformation efforts as both an internal leader and as an external consultant. His consulting experience includes helping groups make complex organizational transformations, clarifying previously ambiguous strategies, developing human-centered programs, and reaching consensus on controversial topics.  Rod serves as the Alexandra Greene Ottesen Endowed Chair at University of the Pacific where he teaches graduate courses in organization change, innovation, and facilitation. He also leads a team of colleagues through Githens and Associates LLC, helping organizations get results through innovation, design, and strategy.

Other Training Opportunities
Githens and Associates – Our specialties lie in working with leaders who face challenges, need a skilled neutral facilitator for an important process, or want to accelerate their organizations in achieving results. We offer consulting, facilitation, coaching, public training, and in-house training both online and in-person. We've served hundreds of participants across the country in developing skills for facilitation, design thinking, and innovation. Please sign-up for our mailing list to receive updates about our training.