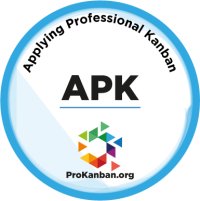 Kanban is fast becoming the modern way to manage an organization's delivery of customer value. In today's always-on environment, you need a clear set of practices that don't get in the way of your ability to continuously deliver but that provides enough structure to keep everyone aligned and focused. This two-day course will give you an in-depth introduction to improving your team's effectiveness by applying Kanban flow principles.
In this class, you will learn the basic principles of flow and how to use them to make your team process more efficient, predictable, and effective. With an emphasis on the practical application of concepts, this course includes many hands-on exercises that will lead you through the steps of setting up and operating a Kanban system for continuous value delivery and improvement.
Learning Outcomes
After attending the course, learners will be able to:
Explain the basic principles of flow
Describe the value of WiP limits
Create a visual board to manage your work
Capture and interpret key flow metrics and analytics to find improvement opportunities
Explain why flow should be focused on value delivery
Define, build, operate and continuously improve a Kanban system
Discuss how tooling impacts your implementation
Who Should Attend
The Applied Professional Kanban course is for anyone who wants to improve their ability to deliver value and be more effective. Typical attendee roles include business analysts, team members, team leads, agile coaches, Scrum Masters, Product Owners, project managers and product managers.
Topics
Kanban theory, principles and practices
Applying Kanban
Workflow design and visualization
How to operate a Kanban system
How to get started
Validated Learning
After taking the course, you will have an opportunity to validate that you understand core Kanban topics. We will invite you to take an online assessment that evaluates your understanding and provides you with guidance on areas to improve. 
Instructors
Mike Bowler is a long time coach and trainer who helps IT teams, and their management, improve the way they work. He's been an active member of the Agile community for over twenty years and has worked with a wide variety of industries. Mike is a Professional Kanban Trainer (PKT) with ProKanban.org. More about Mike at his website

Kevin is an Agile Coach, Trainer, and Practitioner with over 15 years of experience using Agile and Lean methods at organizations varying from small startups to large multinational firms. He has a proven track record of helping create holistic views of organizational systems in order to enable business agility. Kevin is a Professional Kanban Trainer (PKT) with ProKanban.org. More about Kevin at his website.
Logistics
The class will be held over zoom with a one hour lunch.
9:00am-5:00pm Eastern time

Financial Aid

Our goal in offering this class is to improve the understanding of Kanban across industries and geographies. To help support that goal we offer a number of needs-based discounts for those who can't attend due to price. If you feel that this offer is appropriate for you please contact us at support@improvingflow.com with a short description of your situation and we will get back to you as soon as possible.