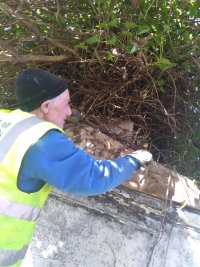 Please read all the way to the bottom of the page before booking.

On the 2nd Monday of every month (and the occasional Sunday) a group of volunteers get together to work on heritage conservation projects across Tower Hamlets Cemetery Park. This could include everything from clearing ivy and brambles from around our monuments, removing goose grass and cow parsley, helping maintain our heritage trail, documenting monument inscriptions and much more. No experience is necessary and all training will be provided on the day. You'll also learn about our history and heritage/nature conservation techniques as we work!
*Please note that the May session will be on the 3rd Monday (15th) due to the coronation bank holiday*

Dates book up quickly, but it's worth joining the waiting list as people do cancel.

Our volunteering is well-controlled: we have a big supply of hand sanitiser, soap, and cleaning products, and we have plenty of space for people to keep their distance. We'll be working outside but please do bring your masks if you feel more comfortable wearing one.
SPACES ARE LIMITED TO 15 
Please note the Soanes Centre will only open for toilet facilities, there will be no space to store your belongings.

BEFORE YOU DECIDE TO BOOK: -
Do not attend if you or a member of your household have COVID-19 symptoms or have had a positive test result recently. If you develop or display symptoms on the day you may be asked to leave. Please check your symptoms and whether it's suitable for you to attend.
This event is aimed at 16 years + however 12+ may be able to join in some activities with a parent/guardian. 
ON THE DAY
Please arrive on time and go to the meeting area: the War Memorial in front of the Soanes Centre (on the right as you enter via our main gates on Southern Grove E3). Your session leader will be wearing a hi-vis vest so you can find them. 
Click here for more information and to view our full COVID-19 policy and data protection policy.

What to bring
Wear sturdy shoes, trousers (no shorts!), and ideally long sleeves. Dress for the weather. Wear clothes that you don't mind getting dirty. We have lots of stinging nettles and brambles!
Bring your own food and drinks (we'd recommend snacks and a thermos flask). Make sure it's enough to last you for the duration - there will be access to drinking water, but we can't guarantee hot drinks and snacks (we'll do our best though!)
Bring your own gardening/work gloves, hand sanitiser and a face mask if you have them.
You will only be permitted into the Soanes Centre or Lodge to use the toilet. There will be no facility to leave your belongings. Please do not bring anything you aren't willing to carry with you. If you travel by bike, we can't offer indoor storage. You can lock up your bike outside but within the Soanes Centre railings.
Access statement
This is an accessible, inclusive volunteering session. The maximum number of participants is 15.

We will cover a distance of less than 1km. The paths are approx 1-2m wide. The surface is crushed concrete fines, a type of hard-packed fine gravel (which doesn't turn to mud in rain) or earth although we may work in some areas off the paths where access is limited by graves. A circular route around the Cemetery Park is approx 1km with one steeper slope and some shallow slopes, but you can go as far as you like. There are 2 areas with steps, but these are avoidable. If arranged in advance a motorised vehicle could also drive onto the site. There are benches with backs at regular distances around the Cemetery Park. Some of the site is shaded. There is on-street parking.

Please contact us with at least 2 weeks' notice if you'd like BSL or other interpretation/translation. Sadly we have no-one in house who is able to offer this service.

Toilets will be available in the Soanes Centre. There is a toilet that was deemed accessible when it was refurbished in 2007, but it is not accessible in line with today's standards. It is approx 2x2 m2 and there is a fixed support bar on the left of the toilet, with a movable bar on the right. There is no adult changing table or hoist.

If you require space to pray during the activity, please let us know and we'll make a quiet space available for you. 

We aim to make our events as accessible as possible, and are learning constantly how to do this better. If you would like to let us know about any specific requirements or access needs that you would like us to meet, or offer feedback on our accessibility arrangements, please email contact@fothcp.org. We want you to feel safe in nature.