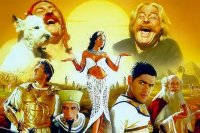 [ FRENCH BELOW]
Book your tickets now for an unforgettable evening around the sing-along screening of MISSION CLEOPATRA
IN FRENCH WITH ENGLISH SUBTITLES
FRANCE 2022

107 min

Director Alain Chabat

Starring Christian Clavier, Gérard Depardieu, Jamel Debbouze, Edouard Baer, Monica Bellucci.


SYNOPSIS:
The Egyptian Queen Cleopatra bets against the Roman Emperor, Julius Caesar, that her people are still great, even if the times of the Pharaohs has long passed. She vows (against all logic) to build a new palace for Caesar within three months. Since all her architects are either busy otherwise or too conservative in style, this ambivalent honor falls to Edifis. He is to build the palace and be covered in gold or, if not, his fate is to be eaten by crocodiles. Edifis calls upon an old friend to help him out: The fabulous Druid Getafix from Gaul, who brews a fantastic potion that gives supernatural strength. In order to help and protect the old Druid, Asterix and Obelix accompany him on his journey to Egypt. When Julius Caesar gets wind of the project succeeding, he has the building site attacked by his troops in order to win the bet and not lose face. But just like the local pirates, he hasn't counted on Asterix and Obelix.
SCHEDULE OF THE EVENING

Dress Code: (non mandatory)
Roman, Egyptian & Gauls outfit
6:30 pm: Doors open - Entrance from 19th Avenue

Photobooth: 
Distribution of cult replicas of the film 
Raffle ticket distribution
8 pm: Opening of the Amphitheater
Presentation of the" Sing-Along " Screening with the audience taking over some cult replicas.
Raffle prize-giving among the public
SYNOPSIS:

Cléopâtre, la reine d'Égypte, décide, pour défier l'Empereur romain Jules César, de construire en trois mois un palais somptueux en plein désert. Si elle y parvient, celui-ci devra concéder publiquement que le peuple égyptien est le plus grand de tous les peuples. Pour ce faire, Cléopâtre fait appel à Numérobis, un architecte d'avant-garde plein d'énergie. S'il réussit, elle le couvrira d'or. S'il échoue, elle le jettera aux crocodiles.
Celui-ci, conscient du défi à relever, cherche de l'aide auprès de son vieil ami Panoramix. Le druide fait le voyage en Égypte avec Astérix et Obélix. De son côté, Amonbofis, l'architecte officiel de Cléopâtre, jaloux que la reine ait choisi Numérobis pour construire le palais, va tout mettre en œuvre pour faire échouer son concurrent.

Déroulement de la Soirée
Dress Code:
Romain, Egyptiens et Gaulois costumes ( non obligatoire)
6 pm : Ouverture des Portes - Entrée par la 19eme Avenue

Photobooth: les spectateurs viennent se faire photographier
Distribution de répliques cultes du film
Distribution de billets de Tombola
8 pm: Ouverture de l'Amphithéâtre
Présentation de la projection à la mode "Sing-Along"
Projection avec reprise par le public de quelques répliques cultes.
Tirage au sort de la Tombola et remise des prix parmi le public
=======================================