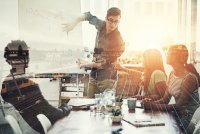 1/2-Day Seminar. You'll learn a step-by-step system to transform your leadership and your results!
Solve your most pressing leadership challenges, and improve performance and team results.
Unlock Your True Greatness: Harness Your Strengths to Achieve Extraordinary Success!
You'll grow faster, succeed more, and lead your field!
What Is It?
A 1/2-Day Seminar to guide you through a step-by-step process to transform your Leadership. You will understand Personal Power and how to use New-Paradigm Leadership to improve performance and results dramatically. Join Andrew John Harrison, the co-founder of Goldzone, for a fun and interactive session.
Focus
Learn and apply Goldzone's revolutionary leadership model, including; the 40 Dynamics of Leadership, 20 Keys to Lead Anyone, the 7 Types of People, 7 Types of Leaders, 7 Types of Followers, and how to lead people by their zone. Apply the Four Levels of Engagement and 7 Levels of Consciousness. Full of dynamic content you won't find anywhere else and how-to-do-it tools, strategies, and systems to dramatically improve performance and results for leaders, teams, and organizations.

Combining the best of Classic Leadership with the New Rules, you will see, touch, and feel the benefits of New-Paradigm Leadership. You'll gain new ideas and tools you can apply immediately and see results.

Transform Your Life, Career, and Business
Shifting paradigms isn't easy. With this seminar, like climbing a set of stairs, you start with the first one, complete that, then move on to the next step. By joining us at this seminar, you can learn directly from the system's creator hacks, shortcuts, and strategies to know exactly what to do and when to do it. As a result, you will experience more clarity, more personal power, and feel more alive! Your results will skyrocket!
Who Should Attend
Leaders looking for an edge
Anyone leading a team and wanting better results
Business Owners, CEOs, Executives, and Professionals
When & Where
Select a convenient date/time:

Wed, Apr 19 - 1 pm to 5 pm
Wed, June 14 - 1 pm to 5 pm
Wed, July 19 - 9 am to 1 pm
Where:

Goldzone Leadership Center
One Raffles Quay
Singapore 048583
What's Included
Your Registration Includes:
1/2-Day Seminar (4 hours)
Refreshments
Workbook, handouts, and slides
40 OPTIMA Zones of Leadership
Private Facebook Group Membership
Certificate of Completion
You'll Learn
Some of what you'll learn:

How to lead difficult people
How to get more done in less time, with less effort
Improve your results by 400% to 3,200%, guaranteed!
Get people to do exactly what you want, happily!
Dramatically reduce your negative stress.
Solve the toughest people challenges.
A step-by-step system to lead anyone, anywhere, anytime, and get results!
You'll also learn:
Attract, retain and motivate the best people!

How to master Learn, Unlearn, and Relearning.
Learn which of the 7 Types of Leader you are.
Learn how to lead the 7 Types of Followers.
Know which person is impossible to lead and what to do with them.
How to use updraft leverage to accelerate your success
Get the entire team to own their SUCCESS!
Key Takeaways:
The 40 Dynamics of Leadership and OPTIMA Zones System
The difference between Emotional Intelligence and Emotional Well-being
The confidence to lead, influence, and inspire anyone to take action!
Use leadership to increase your income in less time, with less effort!
Your Investment
$250 for one attendee
$200 each for partners
$125 each for groups of 10

Your seminar begins the moment you register!

Better-than Risk-FREE Money-Back GUARANTEE
Simply attend the Seminar and if you're not delighted, let us know at the end of the program, and we will arrange a 100% no-questions-asked refund. As a bonus, you can keep the Pre-attendance Package, Workbook, and Handouts - as a thank you!
Your Seminar Leader
When Harrison speaks, people listen. A riveting and memorable leader and master communicator.

Co-founder of the Goldzone Group, Educator, Entrepreneur, Investor, Patron of the Arts, and Leadership Advocate. During a career that spans more than 30 years, Harrison's work has impacted millions of people around the world. After visiting more than 500 cities in 54 countries, Harrison created this seminar to give success-minded leaders, entrepreneurs, and investors a competitive edge.


Harrison has captivated live audiences worldwide and is highly sought after for fresh ideas and simple solutions by CEOs, leaders, investors, and high-performance individuals.
Co-creator of the Goldzone body of knowledge, creator of the Optima Zones®, and author of the Goldzone Education Curriculum. Goldzone Leadership Center is a member of the Goldzone Group. Harrison's vision, passion, and commitment to extraordinary standards of service excellence have become hallmarks of his career and defining characteristics of the Goldzone Group.
For nearly 30 years, Harrison has met and hired many well-known leaders and developed a corporate client list that reads like a "Who is Who" of business, including many of the world's top companies.
Harrison has personally advised CEOs, entrepreneurs, and investors on a wide range of strategic business dynamics with an extraordinary reputation for dramatically transforming the overall results of leaders, high-net-worth individuals, and corporations.
When Harrison speaks, people listen. A riveting, memorable public speaker and master communicator, Harrison has designed, produced, and presented over 500 seminars, talks, and engagements with live audiences of up to 5,000.
Besides founding more than twenty companies, Harrison is perhaps best known for his ability to articulate complex ideas, strategies, and concepts in a way anyone can understand and implement. One of his unique gifts is to combine practical, real-world experience with the theoretical to produce dynamic, usable techniques and strategies.

Now you can experience this extraordinary leader live and in person. You will be inspired, expanded, and challenged to look at your life, career, and business in a new way.
Our Clients Love Us
"A different angle and approach to leadership performance. The learning environment is excellent. One of the most beautiful training rooms I have been to. The organizers have clearly been client-focused to ensure participants enjoy a beautiful environment that aids learning. Well Done!"
- Jacquelynne (Singapore)
"Thank you Goldzone Team. Your passion and love for supporting us in our quest for life is evident in everything you do."
- Richard (Singapore)
"Wow! The experience was so amazing and scintillating. I got all my answers in 2 hours. I was feeling on top of the world.
I got to learn insights on how to manage different kinds of personalities and to be a leader whatever I do. My communication skills improved with stakeholders and I felt so much, more confident in my day-to-day life."
- Sanghamitra (Sydney)
"Wow! What an amazing Seminar. My brain was buzzing with new information and ah-ha moments; I learned how simple changes could dramatically improve my life. Simply the best!"
- Rosalie (Melbourne)
"A great self-awareness and self-development program with a very easily understandable system delivered in a very safe style by very authentic, genuine trainers creating an engaging, stimulating experience. AWESOME!"
- Yoosuf (Singapore)
"I believe in fate, destiny, or God's timing, and I am truly, truly thankful for having been given this gift of attending the program. The timeliness, content, and encounters with some of the participants can only be attributed to a greater being. So it is with much gratitude that I thank everyone at Goldzone for making this such a seamless and memorable experience."
- Olivia (Singapore)
"It was an Incredible experience, much more than expected. The program really makes you become a better Leader in Business as well as a better person in Life.
Anjou and Harrison are the most fascinating, inspiring, intelligent, and fun-loving people I have ever met. Admiration to the TEAM, who were so inspiring."
- Jan (Singapore)
"Join the Membership if you would like to get on the fast track to living above the line where the benefits are - more expression, more connection with others, faster results in life, more money, more time, more energy, more of what you want.... less drama, move flow, better health, higher intuition, perception, more truth, more acceptance, a team of like-minded individuals to support you, more creativity, fun, play... etc."
- Joyce (Singapore)
"It was the most supportive learning experience I have had. It was far beyond any expectations that I could think of. It was a wow experience.
It is the best gift that you could give to yourself if you want to be fully alive, contributing and reaching your own Personal Power."
- William (Singapore)
"I would recommend Goldzone Leaders' Membership to others. Where else would you have conversations and information about the real things that leaders in the 21st-century face. Who else has the knowledge and continuing education to challenge people to personal leadership and responsibility."
- Fiona (Sydney)
"If you really want to get clear and have results in your life, then this is the only program to do!"
- Rowena (Singapore)
"Today I see myself in a totally different light. In a year from now, I will be even better than I am today. Thank you for giving me this opportunity and above all thank you for the experience."
- Sheryl (Singapore)
"I recommend this program to anyone who is open to ideas or looking for a change. A lot of people are so set in their thinking or zone that they cannot even see there are other ways to everything."
- Melvin (Singapore)
"Through interactive and fun exercises, the seminar changed my notion of what leadership truly is! It is comprehensive, easy to understand and apply, very creative, and empowering!
The seminar touches on various levels of leadership engagement, the keys to lead, as well as Goldzone's Leadership System. It allows me to be the best leader I can be and to create better results in my life!"
- Tiffany (Singapore)
"The seminar offers bold new insights into what leadership and being a leader is about. The best part of what learned is how leadership plays a pivotal role in business, career, and intimate relationships. The speaker walks the talk and expresses concepts in an easy-to-understand way. I highly encourage anyone who aspires to be a better leader to attend; you are in the right place."
- Praneeth (Sydney)
"The program is realistic and relevant, I was able to relate the key facets of the program to my personal experience. I better understand why I feel in certain ways and why people behave the way they do.
The ideas behind the program are powerful and relevant. The Optima Zones are a good tool kit for one's personal development."
- Philip (Singapore)
"Very rewarding and worthwhile me-time. A rare thing!
I recommend this program to anyone that recognises that from time to time we all need to take time out and focus on ourselves for a while. I don't mean in an egotistical way, but how can you move forward if you don't know where you are?"
- Alex (Singapore)
"Goldzone Leaders Academy is a forum for leaders to grow, learn, share, and to train in becoming the person you need to become in order to be a powerful, effective and influential communicator and leader. This impacts all areas of your life and all aspects (relationships, business, family) grow as a result."
- Dione (Singapore)
"It is a program where one learns the "know-how" of achieving desired extraordinary results in all areas of life. There is also the benefit of a group of like-minded people. There is a fluid, dynamic, entertaining learning environment. We learn through the experiences we go through together. There are lots of opportunities to express ourselves."
- Jackie (Singapore)
"I have been recommending this program and Goldzone to everyone I know. I don't need much words, since actions speak better than words and people have started noticing changes in me. I have told my friends that finally after 41 years I have taken a look at myself and didn't like much of what I saw, there is no better time than the present to transform!"
- Rosa (Singapore)
"I acknowledge your wisdom, knowledge, and teachings - very meaningful, inspiring, straight to the point. The seminar leaders' love for us is unconditional. I can feel the sincerity and how you share your knowledge with us is awesome!"
- Joycelyn (Singapore)
"The program gives you an insight to your ultimate potential and ability to achieve what is impossible. It would provide you with a system which is timeless — a set of tools if fully utilised to be at peace with yourself. A very holistic approach to life."
- Sylvia (Singapore)
"I highly recommend the seminar. The content is about what I want and how to have better results. Especially seeing how improving one area (say communication) in life can make a huge difference in many areas.
I found it very easy to follow and beautifully illustrated. The 2 hours is the start of the best investment in yourself anyone can make."
- Steve (Perth)
"I was amazed by how profound the concept of leadership is. I learned so many new concepts just within the Seminar. Powerful. Amazing. Highly recommended if you are looking for something to improve your life in every aspect."
- Lee Siang (Singapore)
"I would introduce it as life-changing experience and would go on to relate how I have learned and benefitted from the program. EXPERIENCE talks louder than mere words!"
- Rusbir (Singapore)
"There was total congruence throughout every part and every encounter (this is very, very, very, rare) and an experience that won't be forgotten.
The impact that the program and materials can have on your life, relationships and business is worth investing the time and money to change the results that you are getting now."
- Christopher (Perth)
"Fun, direct, and sincere. You will not regret it. It's worth more than what you pay."
- Stacey (Singapore)
"This is the preeminent Leadership program on the planet. If you want Optimal results in the least amount of time then the Goldzone Leadership Academy is for you. If you want to be extraordinary and inspire others to greatness then this program is for you. If you want to be stimulated by presenters whose passion and knowledge knows no bounds, in an environment that is juicy yet safe, then this program is for you."
- Malcolm (Sydney)
"A wonderful journey of discovery myself and understanding humans at a deeper level. Truly powerful!
The most thorough and holistic approach I have ever seen to discover about yourself and understanding others."
- Diana (Singapore)
"Without hesitation, I would recommend this program. I would say that Goldzone is a performance specialist that can take your broken down and rusted out life and turn it into high-performance machinery. This will not only allow you to perform better but will make sure that performance is applied in a way that enhances every aspect of your life."
- Greg (Hong Kong)
"I believe every woman should do this program since we play a big role in family structure and the well-being of our children. We spend the most time with our kids and Goldzone introduces a methodology that could help any family to create a better environment for children and their parents."
- Mahgan (Singapore)

Register Now and let's get you started!