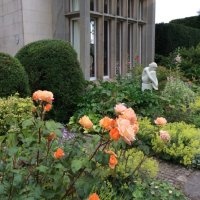 Enjoy an afternoon visit to the magnificent gardens at Broadward Hall, followed by an early evening house tour at nearby Stokesay Court, both hosted by the owners.
Much altered in the 19th century, Broadward Hall has a Regency Gothic appearance. A much earlier dwelling is recorded in a deed of 1650s. In 1672, hearth tax records Broadward Hall had seven hearths - more than any other house in the area apart from Abcott Manor.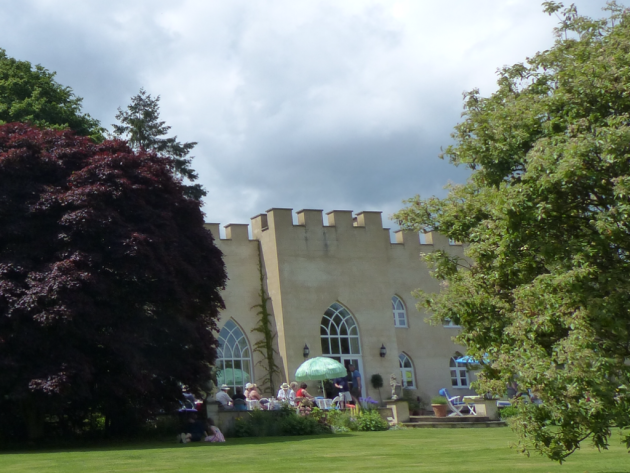 Tea on the terrace at Broadward Hall
Broadward Hall estate is a site of special scientific interest. Visitors will tour the gardens, where the Regency walled garden is being renovated, then visit the Victorian pump house, restored with a grant from DEFRA, and the site where a Bronze Age hoard was discovered in the mid-19th century (now in the British Museum). 
A collection of Phormium and various rare and important plants may be seen, including one of the very few Irish fuchsia "Mount Stewart" in the whole of the UK. Broadward Hall also holds the Collection of Historic Hemerocallis (1959 -1979), which are planted in the walled garden. The plants that make up this important historic collection were bred by three English hybridisers. There are more than 65 taxa creating a wonderful display. Many were relocated to Broadward from Waterperry Gardens during 2021.
Those who are interested can also visit the early 19th century archery walk lined with giant sequoia trees. Afternoon tea will be served in the music room or on the terrace at the end of the tour.
After leaving Broadward Hall at 4.30 pm, visitors will make the short drive to Stokesay Court, where the house tour will begin at 5.15 pm, followed by drinks and canapés.

Stokesay Court is a remarkable late-Victorian survival set within extensive grounds in the rolling South Shropshire countryside, with panoramic views across to Ludlow and the Clee Hills.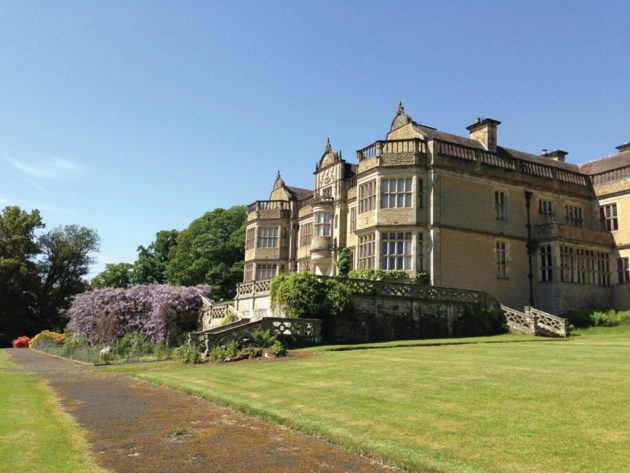 Stokesay Court
The house was built for a wealthy Victorian manufacturer, entrepreneur and philanthropist, who had made his fortune in the glove-making business in partnership with the Dent brothers. Designed by Thomas Harris, the house was at the cutting edge of technology when it was completed in 1892, only six months before owner John Derby Allcroft's death. Equipped with a large boiler and underfloor heating, the house was one of the first private homes in England to have integral electric light, powered by large lead batteries. Much of the early technology has been preserved, nowadays mostly for display. Stokesay is now probably best known for the 2007 award-winning film adaptation of Ian McEwan's best selling novel, "Atonement", and its success has contributed considerably to the revival of the house. Many artefacts from the film remain on display.

The landscaped gardens and grounds contain a fountain, grotto, woodland walks and a series of pools connected by cascades, rills and steps.

Tickets £48 including tea/coffee and cakes at Broadward Hall and drinks and canapés at Stokesay Court.
Directions
Broadward Hall SY7 0QA: Equidistant between Leintwardine and Clungunford. Take the A49 from Ludlow and turn off at Ludlow food centre through Bromfield. Follow the road to Leintwardine and head towards Clungunford. Between Leintwardine and Clungunford cross grade II listed Broadward Bridge. Broadward Hall will be visible across parkland. Entrance gate lodge on left. 
What3words: ///passions.burden.investors
Stokesay Court SY7 9BD: Just off A49 between Ludlow and Craven Arms. From north go over level crossing at Onibury, turn right. From south turn left just before level crossing. Signposted Aldon and Clungunford. Gates visible 50 yards ahead by lodge forming 5th part of mini crossroads and marked PRIVATE DRIVE. Go to top of drive and keep straight on through second set of gates into large courtyard. Park in Courtyard. Alternatively turn left at top of drive and use car park on left beside walled garden. 
What3words: ///obscuring.gathering.shrug