---
---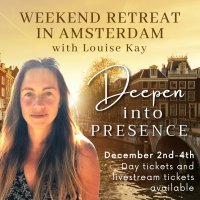 You're invited to join Louise Kay in Amsterdam to spend a weekend together deepening into presence.
The focus of this weekend will be to discover and open up to the infinite stillness which lies beyond the conceptual self and the realm of forms and experience. As the attention rests with and as this formless, spacious awareness there is an effortless deepening into presence, which brings with it a profound sense of peace and joy.
The weekend will consist of guided meditations, group Q&A sessions and silent sittings, and opportunity to connect with new friends. All participants will receive downloadable video recordings and access to the private Facebook group where you can connect with other retreat participants.
Livestream tickets are available for those unable to attend in person.
Schedule:
Friday December 2nd
18:30 - 19:00 - doors open for meditation
19:00 - 21:00 - meeting
21:00 - 21:30 - tea

Saturday December 3rd and Sunday December 4th
10:00 - 10:30 doors open for meditation
10:30 - 12:30 - meeting 1
12:30 - 15:00 - lunch break
15:00 - 16:00 - silent sitting
16:00 - 16:15 - break
16:15 - 18:15 - meeting 2
18:15 - 18:45 - tea

Each meeting consists of a guided meditation followed by Q&A.
Schedule is subject to change without notice.

Prices do not include accommodation or food. Tickets are non-refundable and non-transferable.