Why is this course important?
This course is specifically designed for the executive and senior manager, covering the successful patterns for organisational change when adopting LeSS and moving to a Product & Customer-Centric organisational design. The flow and focus of the course will be tailored to the expertise and growth areas of the people in the room to create a unique and agile experience that learners get the most from.
Large-Scale Scrum (LeSS) is a framework for scaling agile development to multiple teams. LeSS builds on top of the Scrum principles such as empiricism and cross-functional self-managing teams of multi-skilled people and provides a framework for applying that at scale. It provides simple structural rules and guidelines for adopting Scrum in large product development.
What's a key insight for senior managers to understand about LeSS? That it is not a practice or process. Rather, LeSS implies an organisational design change, which impacts group structures, hierarchy, team formation, roles, positions, processes, and basic policies (such as career path).
The Certified LeSS for Executives course is an in-depth course covering the (1) LeSS principles, (2) adoption, (3) the role of management, and (4) broadly, what a senior manager needs to know and do to help. The course includes stories on LeSS adoptions, exercises, and extensive Q&A to ensure we discuss the topics most interested the participants.

Topics covered include:
The following topics will be covered in the Certified LeSS for Executives course:
Why LeSS: Benefits to Your Company?
Systems Thinking, Organizational Design, and the Contract Game
Principles & Management Implications

Empirical Process Control for the Entire Organization
Lean Thinking in LeSS: Across All Functions
Systems Thinking: From Local to Global Optimization
Whole-Product Focus: Group and Role Impacts
Customer Centric: Process and Group Impacts

Adoption

The 3 Key LeSS Adoption Principles
Getting Starting
Growing Your Adoption
Culture Follows Structure
Job Safety, but not Role Safety
From Smallish to Huge
Multisite Adoption

LeSS Structure & Roles

What is your product? A LeSS perspective
Organizing around Customer Value and Feature Teams
Role of Managers
The Business-Driven Product Owner
Typical Organizational Structures and Patterns
Multisite Implications 
Schedule
Over two days, this interactive in-person course runs from 9.30 am to 5.30 pm (UK). We allow for regular breaks throughout each day. Please note that each course date's start and finish times refer to the GMT zone. 
Course Outcomes
All participants will be Certified LeSS for Executives and will get an account on the less.works website. Here they can find additional information about LeSS, share course information and stay in contact with the other course participants.
 
Your Trainer - Ben Maynard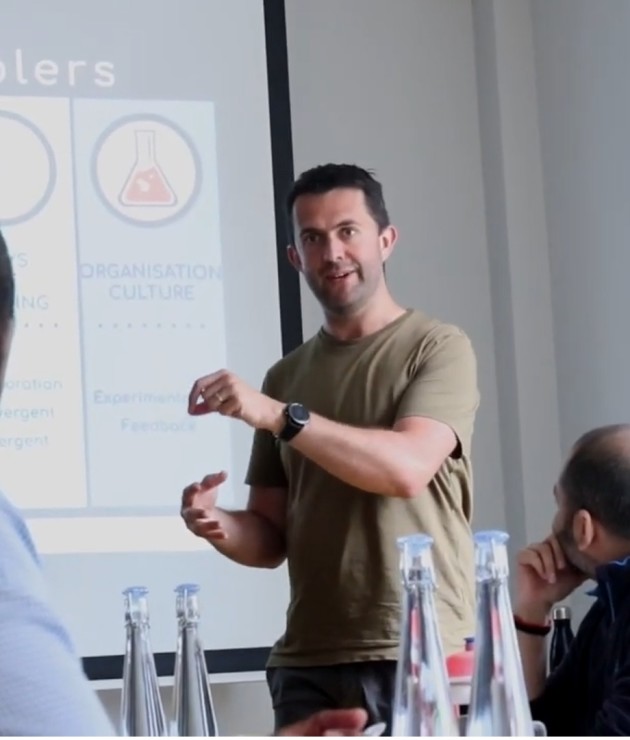 Passionate about organisational culture and design that enables the creation of value both for an organisation's customers and its people, I want to know we are building the right product and building it in the right way.

In recent years I have experimented with ways to balance an organisation's desire for control, collaboration and innovation through educating, coaching and leading organisational transformations to get more with LeSS.
The growth of people to be effective in achieving the organisations and their personal goals is the critical catalyst for this. As is coaching, training and mentoring people at all levels of the organisation.

Terms & Conditions
Full refunds are available 15 business or more days before the scheduled event date. Cancellations made 10 or more business days before the event will be credited toward future events, however, no refunds will be issued. Rescheduling course attendance within 10 full business days or less will be subject to a transfer fee of £100. No refunds or credits will be available for participants that fail to attend all days of the course. Substitutions will be accepted at any time prior to the commencement of the course.

In the unlikely event that we need to cancel or postpone the course you will be offered your choice of a discount on a later course or a full refund.
If you would like to pay via invoice then please contact us on info@ripple-rock.com.