---
---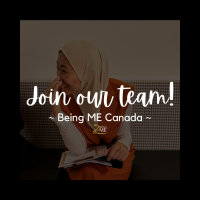 Assalamualaikum!
Being ME is a Canada wide sisters organization dedicated to connecting Muslim women and girls in faith to ignite change!
Our Vancouver Team is gearing up for some exciting events by Being ME Canada!
Are you ready to impact the sisters in our city?
Are you a team player who is:
Fearless
Passionate
Consistent
Reliable and
Resourceful?
If you answered yes to any of these, then the Being ME Team may be a fit for you.
Tell us about yourself on our volunteer form.
We'd love to get to know you over a coffee!
Looking forward to having you on board InshaAllah!
https://docs.google.com/forms/d/e/1FAIpQLScLA_YXRwJrqRYehoMbTnEsaXBji9AqnWoQL2yPgzEVDeMZjA/viewform?usp=pp_url
#BeingMEtoronto #BeingMEvancouver #BeingMECalgary #BeingMEOttawa #BeingMEHalifax #torontomuslims #muslimsofvancouver #learningislam #muslimahempowered #quranchallange #quranandsunnah #weloveallah #muslimwomen #iloveallah #muslimorganization #womenempowered