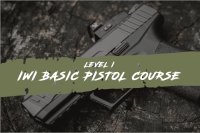 DETAILS
This course is designed to help a new shooter understand and apply the fundamentals of shooting with a pistol. At the completion of the course, the student will have a solid understanding of core skill sets required to efficiently employ a pistol and manipulate the system. You do not need an IWI weapon to attend. Any quality pistol will be accepted. Your course will be instructed by members of the special operations community and law enforcement.
Free rentals are available. Includes pistol, holster, magazines.
This is not a red dot specific course, but the use of the red dot will be addressed specifically for those that have them.
There will be an IWI discount applied to one weapon purchase directly from the factory upon completion of the course.
*Course will require significant and frequent positional changes from standing to kneeling to prone, some minimal running, and dynamic adjustments.
Core Topics
Some of the many topics covered include:
Safety
Function of the semi auto pistol
Marksmanship
Presentations from the holster
Ready positions
High and low probability shots
Presentations from the holster
Reloads
Malfunctions
*For additional questions contact us directly at training@iwi.us or 717-695-2081 and reference the Pistol Basics Course.
Prerequisites:
None. This course is for the new shooter.
Firearms Requirements:
Quality pistol with 5 magazines, 8 magazines if the pistol is a single stack

Quality holster, not nylon and no Serpa holsters. Magazine pouch capable of holding two magazines.
All students will be expected to have good quality pistols and holster systems.
Serpa and Nylon holsters will not be allowed for this training.
Ammunition Requirements:
Gear Requirements:
Seasonally Appropriate Clothing
Rain Gear
Hat
Boots/Hiking Shoes
Sunscreen
Bug Spray
Water Bottle (Suggested)
Hearing & Eye Protection
Firearms Cleaning Kit
Location: Protect America Now Range 410 Nickerson Farms Road Seguin, 78155
Lodging: Any Airport area hotels will be 10 minutes from the range.
FAQ
What does the cost of registration cover?
Cost will cover the course only. The student is responsible for costs associated with travel, lodging, meals (unless otherwise indicated), firearms (unless a loaner is requested), ammunition, and personal gear.
Do I need a background check to attend training?
Yes, unless you have a current state issued concealed carry permit. *If so, then you will need to upload a copy of your permit and driver's license during registration in lieu of a background check. I don't have a concealed carry permit. How do I obtain a background check? Sentry Link offers a National Criminal Background Check for a fee of $19.95 per report. Once the report is obtained send the report to info@tacticalfitnessaustin.com to have it included with your registration packet. You can send the report via the "Share" button.
How do I pay for the course?
During the registration process, you will be asked to enter your payment information or voucher code in order to pay for the course. This payment is required to hold your place in the course due to class limits and the management of student / instructor ratios. Cost covers the course only (unless otherwise indicated). Students are responsible for costs associated with travel, lodging, meals, firearms (unless a loaner is requested), ammunition, and personal gear.
You must be a US Citizen or Permanent resident to attend a Tactical Fitness firearms course