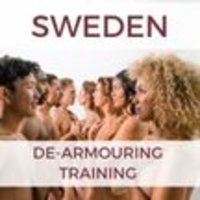 De-Armouring Training SWEDEN - Level 1


https://sunnyju.com/event/de-armouring-training-sweden-mar-27-apr-02-2023/
DATES & TIMES
Level 1 - Foundation:
March 27 - April 2, 2023: Start 18:00; Completion 17:00

INVESTMENT
First come, first serve! We have limited spaces available and all past events have been sold out!
For Repeaters we offer special conditions. Please write a message to our event organiser Natalia:  nzarawska@gmail.com
Level 1
Early Bird until Dec 26, 2022 = 1.490 EUR
Regular from Dec 27, 2022 = 1.690 EUR




Please note:
Full payment of the remaining amount is to be made NO LATER than Feb 12, 2023.


TIGHT BUDGET?
Are you a a tight budget? We offer a payment plan - please send a message to our event organiser Natalia: nzarawska@gmail.com.
WHAT'S INCLUDED
Includes all sessions, classes, teachings, a Certificate of Completion, 1 integration group Zoom meeting after the training, food and dorm style accommodation.
Limited room upgrades to double and single rooms are available at extra costs - please write us a message to our organiser Natalia: nzarawska@gmail.com and also notify us this through the registration form which you will receive after paying the deposit.



NEXT STEPS FOR REGISTRATION
Please read the list of FAQ - Contraindications and the Cancellation Policy carefully.
BUY TICKET: you pay your deposit of 500 EUR per level to secure your ticket price and save your spot.
After purchase, you'll immediately receive a Confirmation Message with an attached link to our Registration Form.
Fill out and send the Registration Form back to us within 48 hours to confirm your place. 
After you completed the Registration Form, we will send you an email with more detailed information (like what to bring etc.)
Make the full (remaining) payment until Feb 12, 2023 (you will receive bank details later).
All questions are warmly welcomed!
CANCELLATION POLICY
All cancellations must be submitted in writing to our organiser Natalia: nzarawska@gmail.com.
The deposit is non-refundable.
If you cancel before Feb 12, 2023, your payment will be refunded minus the deposit.
If you cancel any time from Feb 13, 2023 on, or if you withdraw from the event after the start of the first day, no part of the payment will be refunded.
CANCELLATION POLICY in case of force majeure ( i.e. COVID-19):
If the event is impaired due to force majeure and cannot take place, we are not obliged to cover any damages or refund the training fee. We reserve the right to change the date due to force majeure. In this case you can transfer your full payment to a future event.
If YOU cannot attend because you contract COVID-19 (doctor's note and test result required) you can transfer your payment minus the non-refundable deposit to a future event.
If YOU cannot attend because of the legal restrictions in your home country (i.e. travel ban - written proof is needed) you can transfer your payment minus the deposit to a future event.
If it is possible to attend but YOU decide not to attend for your own reasons, then the usual Cancellation Policy (above) applies