---
---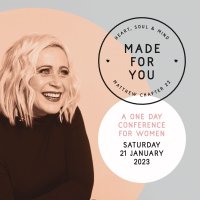 This is a day conference for women of all ages, hosted by Lou Fellingham and Reigate Baptist Church. Featuring  worship and word from Lou and special guests Rachel Gardner and Philippa Hanna, this will be a time to be refreshed, inspired and equipped. We're looking forward to enjoying this day together as we take time to wait on the Lord.
**EARLY BIRD TICKETS AVAILABLE UNTIL DECEMBER 5th**
DAYTIME CONFERENCE SCHEDULE *Please be advised some timings are open to change
8.45am Registration
9.30am -11am  Session 1
11am - 11.30am  Break - refreshments (included)
11.30am - 12.30pm Session 2
12.30pm - 1.30pm Lunch (please bring your own)
1.30pm - 2.15pm Session 3
2.15pm - 2.30pm  Break
2.30pm - 3.30pm Session 4
3.30pm - 4pm Break - refreshments (included)
4pm - 5pm Final worship time
5pm End

RE-USEABLE CUPS
Hot drinks and water will be available throughout the day. Because we are trying to reduce our plastic usage, if possible, please bring your own refillable water bottle and/or coffee cup.