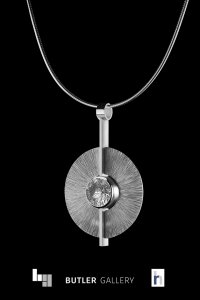 Created by Rudolf Heltzel for Butler Gallery
This Christmas, once again Christopher Heltzel, of Rudolf Heltzel, is supporting Butler Gallery and helping us to raise vital funds for our 2023 programme of activity. Christopher made this stunning bespoke pendant for our Christmas Prize Draw which is valued at €1,400. This incredible once-off piece of fine jewellery could be yours or gifted to a loved one for a €10 ticket and you will be supporting Butler Gallery, one of Ireland's leading contemporary art gallery's and cultural heritage attractions.  
The making process
The creation of this design is a remarkable process. The pendant starts as a flat sheet of urban mined sterling silver, and with great precision the shape will be marked on it and the cutting process will take place, using a thin saw blade to minimise waste. The creation of the textured surface, where hundreds of lines are created by a specially shaped hammer, is a process that requires very skilful and detailed hammering to create an even pattern throughout. The textured silver is then cut into two even pieces that fit to the setting, after which it's fire time where the pendant is carefully soldered together, before being filed, emeried and polished to perfection.
The setting of the gemstone is the final hurdle, whereby the silver is accurately hammered around and on to the gemstone. The pendant is given a final high polish and is then ready to show its beauty to the world!
About Rudolf Heltzel
A Rudolf Heltzel philosophy when designing is to be highly aware of the functionality of the work, ensuring that - in spite of the ambition and complexity of the pieces - the designs always intend to complement the wearer. Through taking a sculptural approach to his work, Rudolf Heltzel was a master at creating art in jewellery.

Rock Crystal on Sterling Silver Pendant
The original concept of this Rudolf Heltzel pendant dates back to 1976, almost a decade after Rudolf Heltzel established his atelier in Kilkenny.
Rock Crystal Gemstone
Clear quartz is also called rock crystal or ice crystal, from the Greek word "krystallos" meaning "ice" - the crystal was thought to be frozen water, so hard that it could never thaw. Rock crystals are valued for their clarity and total lack of colour or flaws.
(Although the actual resemblance to diamond is remote, the widespread use of colourless quartz in jewellery gave rise to the word diamond being used by some in the description of quartz crystals, such as the "Herkimer diamond" from Herkimer County, New York.) Rock crystal is reasonably durable and stable, which makes it suitable for everyday wear.
Value of Pendant: €1,400

Tickets also available from Butler Gallery Reception.
Draw will take place at 1pm on Tuesday, December 13th and will be broadcast on Butler Gallery Facebook Live.

Collection of the Pendant will be the responsibility of the winner.

All funds raised will support Butler Gallery's 2023 Exhibition Programme.