---
---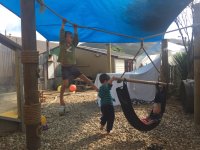 Presented by Robin Christie
Adult-supported and developmentally appropriate risky play is vital to children's physical, emotional, social, and cognitive development. Research from Aotearoa and across the globe points to the long-term benefits of this kind of play, especially in the development of children's resilience, the ability to 'bounce back' from negative experiences. Te Whāriki also celebrates the importance of this kind of play numerous times, including specifically for toddlers.
Loose parts play involves open-ended and easily manipulated materials that children can use to construct, deconstruct and transport to develop their working theories of the physical world, and to augment their social and imaginative play. Since Simon Nicholson (1971) first formally described this natural aspect of children's play, the ways in which we interpret loose parts play have widened considerably, with recent research showing this kind of play as being completely without boundaries, and as mixing easily with other kinds of learning.
This presentation will examine practical instances of loose parts play using materials that are recovered, upcycled and drawn from nature. It will look at loose parts play opportunities in infant and toddler spaces, and will explore their importance in symbolic and imaginative play. A special emphasis will be placed on loose parts play provisions that provide for adult-supported risky play, are environmentally responsible, encourage cooperation and problem-solving, and are cheap as chips!
This event runs from 4 - 6pm.
General admission price: $100

Space mag subscriber's price: $80
To check if you are a current subscriber to The Space magazine, click here.
To subscribe to The Space magazine, click here.