---
---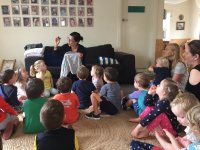 Presented by Bobbi-Jo Burkitt.
What is mat time? Who is it for? Why do we do it, and what do we want children to gain from this experience? This three-hour course will explore these questions, as well as exchange ideas about things we as kaiako may want to implement to enhance positive learning outcomes for children. Some ideas we will touch on will be:
What name do we give to group learning experiences? How do these group learning experiences unfold throughout our day? We've sat down... Now what? Exploring unique and engaging experiences for young children that will give kaiako some refreshing perspectives and new ideas should your centre have group learning experiences.
Please come prepared ready to share ideas and learn alongside one another in an imaginative and engaging atmosphere.
This course runs from 9am to 12pm.
General admission price: $140

Space mag subscriber's price: $120
To check if you are a current subscriber to The Space magazine, click here.
To subscribe to The Space magazine, click here.