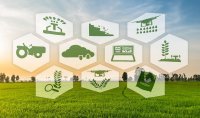 AgriTech 4.0 - Crops, Seeds & Soil returns for its 4th year in its focus on supporting farms, farmers and growers in providing knowledge and assistance on the key aspects of the evolving technologies, processes, and practices being developed, used, and implemented for sustainable and regenerative farming, to enhance productivity and yield.
Attendance is complimentary/free for all farmers, farm employees and growers. Please click on the blue button that reads Attendance & Registration Options to register your attendee place.
Over 250 farms, farmers, growers and industry solution providers will once again be joining the event, providing the industry with the unique opportunity to outline and discuss the advancements, innovations and efficiencies that are ongoing to support the development of sustainable and regenerative farming.

Conference (Virtual) - Friday 20th October 2023 (UTC+1/BST)
Conference Room 1 - Smart Solutions for Digital Technology and Data Support
Digital technology and the application of data gives farms, farmers and growers an opportunity to improve productivity, with digital agriculture changing how farmers farm and transforming every part of the agribusiness value chain. How can we continue to support farmers and make our farms more productive and profitable whilst enhancing sustainability?
Conference Room 2 - Smart Solutions for Enhancing Crops, Seeds and Soil
Productive crops and healthy plant foods can be enhanced further by our research, practices, and processes into ensuring the life cycle of crops and plants is managed effectively. How are we developing and managing the soil whilst ensuring the inputs we put into the soil and on the plant leads to healthy, sustainable, productive crops and plants?
Current Conference Presenters - AgriSynth, Burleigh Dodds Science Publishing, Drone Ag, Map of Ag, Natural England, Safe Ag Systems, Solasta Bio, Unium Bioscience

Current Companies Attending - AgriSynth, Burleigh Dodds Science Publishing, Drone Ag, Map of Ag, Natural England, Safe Ag Systems, Solasta Bio, Unium Bioscience

Companies Attending in 2022 - 42 Acres, A & K Budge, A R WILSON, ADAS, AgFunder, Agrecalc, Agreena, Agribot, Agrico, Agricultural Industries Confederation (AIC), Agricultural Supply Services, Agrii, AgriSynth, AGRIVI, AHDB, Allpress Farms, AND Technology Research, Aponic International, Appleyard Lees, Apricot Centre CIC, AST MSL, Autonomous Agri Solutions, Barfoots of Botley, BASF, Bayer Crop Science, Berry Gardens, BerryWorld, Boddington Estates, Burleigh Dodds Science Publishing, Cambridge Enterprise, Cambridge University, Central Association of Agricultural Valuers (CAAV), Climate Change Platform, Cobrey Farms, Commercial Horticultural Association, Corteva, Court Farming Partnership, Cranfield University, Crop Nutrition Laboratory Services (Cropnuts), Crop4Sight, Debbie Winstanley, Delta-T Devices, DGM Growers, Downton Estate, Drone Ag, Duchy of Cornwall, Dunaird Consultants, Dyson Farming, Earlham Institute, Earth Products, East of England Agricultural Society, Edinburgh University, EIT Food, Elsoms Seeds, Emerald Research, EnTrade, European Bank for Reconstruction and Development (EBRD), F.I Watkins & Sons, FAI Farms, Fellows Farm, First Base Solutions, Game & Wildlife Conservation Trust (GWCT), Gentle Farming, George Thompson, German Federal Office for Agriculture and Food (BLE), Gilfresh Produce, Gilpin Farms, Greens of Soham, G's Growers, H L Hutchinson, Harper Adams University, Hartpury University AgriTech Centre, Heaven Organic Farms, Hill View Farm, Homegrown at Hampen, Hummingbird Technologies, I. W. Renner & Sons, Innovation for Agriculture, Intelligent Growth Solutions (IGS), J Hopwood & Son, Kettle Produce, Kmetija Brinsek, Kubota, LEAF (Linking Environment And Farming), Madar Farms, Mai Minds, Map of Ag, Milltrust International, Muddy Machines, Munster Technological University (MTU), N Lecocq and Sons, National Centre for Food Manufacturing, National Trust - Wimpole Estate, Natural England, Natural Resources Institute - Greenwich University, Natures Crops International, Net Carbon, Newcastle University Farms, NIAB, Nico Orgo, Novarbo, NRM, OneFarm, Origin Digital, Origin Enterprises, Oro Agri, Outfield, Park House Farms, PepsiCo, PfBIO, Planting Ideas, Precision Decisions, Premium Crops, Progressive Agriculture Services, R W & F J Rhodes & Son, Reading University, RegenBen, Remote Sensing Applications Consultants Ltd (RSAC), Rothamsted Enterprises, Rothamsted Research, Roughway Farm, Royal Agricultural University (RAU) - Centre for Effective Innovation in Agriculture, S S Eglington & Son, Safe Ag Systems, Sakata UK, Severn Trent Water, Sezincote Estate, Shotesham Estates, Showsley Farm, Silvesters Farm, Simon Oxley, Small Robot Company, SOLASTA Bio, Southern England Farms, SRUC, Suncrop Produce, Surrey University, Swiss Research Institute for Organic Farming (FiBL), Syngenta, TBAT Innovation, The World Bee Project, TOO.Software, Tozer Seeds, Ullmanna, Unium Bioscience, UPL, Upward Farms, Verdesian Life Sciences, Vitacress, Waitrose, Wheatsheaf Farming, Whittern Farms, Wolfgang Mock, World from Space, Wyld Networks

Attendee Ticket Option Includes
Full conference & event access provided for the entire event
Instant messaging and 1-1 video networking with any attendee
Access to recordings of event presentations
Customisable company & attendee profiles with various multimedia content options
IF YOU ARE INTERESTED IN PRESENTING AT THE CONFERENCE OR WOULD LIKE TO VIEW THE AGENDA PLEASE EMAIL INFO@TECH40.NET