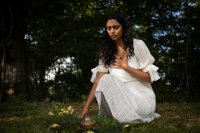 The Beautiful Leadership retreat invites you to be a leader of your own life, and have the courage to live with intentionality and vision and soul.
As we live through these complex times, we are invited to connect more deeply to who we are and our relationship to nature. The Beautiful Leadership retreat invites you to be a leader of your own life, and have the courage to live with intentionality and vision and soul.
Beauty is what stirs us as humans, what brings meaning to our lives, and what invites us to leave a legacy for future generations.
We are all leaders, as each one of us and the choices we make - impacts the future.
In these times of uncertainty, we need to lead with creativity, intuition and rest - so we may bring something new into this world, that moves us away from burnout and extraction culture.
Join 42 Acres Ambassador and All That We Are host Amisha Ghadiali for an expansive weekend exploring the practices and ways of being that support us to live in beautiful leadership - this includes morning meditation and yoga, ritual, explorations of how to show up in wholeness at these times, and deep time in nature.
42 Acres offers stunning spaces for us to explore both inside and out in the wild. Over our time together we will eat fresh nutritious meals sourced from the land; enjoy a candlelit forest dinner, fire ceremony, woodland sauna and wild swimming in the lake. The expert team at 42 Acres will deliver a wildlife tour (including the beavers) and foraging walk.
At the end of this time together, you will feel renewed in your vision for your future, refreshed in your body and reminded of the beauty of our earth.
"The Beautiful leadership Immersion is the best investment I have made in my personal development in some time. Amisha has curated an immersion that speaks directly to your soul, ignites the light you have within yourself and that brings you great clarity about the role you are here to play in the world. Through her exceptional personal wisdom and insight, and by offering a diverse range of world class leaders to learn from, Amisha has helped me shift my perspective on myself, my community and the world and has given my the confidence to be bolder, braver and more intentional in my work and how I live my life." - Jill, Business Psychologist
Want to learn more about Amisha's Beautiful Leadership, listen to this episode on her All That We Are podcast: Episode 103 - Beautiful Leadership, Futurism & Style.
What is included:
Talks and Workshops with Amisha Ghadiali and special guests

Foraging and wildlife walks with the 42 Acres Team

Wholesome, hyper local and delicious meals from the land

Eco-powered comfortable rooms

Fire Ceremony

Forest Dining Experience

Woodland Sauna

Access to 42 Acre's 170 acres of ancient woodland, regenerative gardens and 7 acres lake.
Whats not included: transport, additional treatments, produce from our Wild Larder.
About Amisha Ghadiali:

Amisha Ghadiali is a facilitator and host of the globally acclaimed podcast all that we are (fka The Future Is Beautiful). She is interested in where our inner and outer worlds dance. The podcast weaves together activism, the sacred, creativity and regeneration - to inspire us each to rise up, move beyond silos and Co-Create a Beautiful Future. The show offers deep, insightful, unedited conversations with inspiring guests, calling forth a challenging and open ended narrative for our expanding worlds.

Amisha is an experienced facilitator and has a gift of bringing people into connection with themselves, each other and the earth. She has hosted many retreats. workshops and rituals around the world, and designed programmes including The Heart of Transformation, Wild Grace, and a five month residential fellowship in community facilitation leadership. She creates brave, tender and inclusive spaces for our hearts unfolding, healing and embrace of our wildness.

Find out more about Amisha: www.amisha.co.uk
For more information about this retreat visit: www.42acres.com/experiences