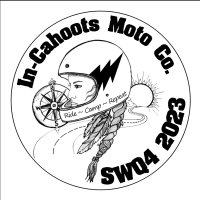 Ladies, we are so glad you are here!

The Southwest Quest 4 is a Women's Moto Retreat welcoming ALL Women!
For 3 nights and 4 days the town of Mancos, Colorado will be filled with Women riders from all over the U.S.A. joining us for Riding, Activities, & Camping
When: June 8-11, 2023
Where: Echo Basin Retreat, Mancos, CO.
Please READ all the information below before registering!
Event Details - What is all included?
FIRST 100 Registered receive a Swag Bag

Event Patch

Event Tshirt

Two door prize entry donation tickets

Participation in the Mystery Event Drawing Friday and Saturday

Bike Show


Decorate your site Contest & Costume Promenade

Team Challenges and Tournaments

Moto Games

Minibike Dash

Party at the pool

Ride maps for self-guided rides to some of the most breath-taking places

Access to our amazing Vendor Lineup

Live Music and Karaoke by DJ - Valerie "BeBop" Miller

Tattooing by Whitney Schiller

Sunrise Yoga

Self-Defense workshops by Sharon Young

(6) Six home cooked Meals - 3 nights & 3 breakfasts (Includes our Annual Welcome BBQ 

Ice Cream Social 

Guest Speakers: "Mean" Jean Bolinger Laurie Montoya with Biker Down, & Shannon "Dazzlin" Venturo from the Bling Devas MC, Heather Lewis, and Kitti Gallegos

3 nights of free tent camping at the beautiful Echo Basin Ranch

Bath house with hot showers, flushing toilets, and sinks

Access to Laundry facilities
NEW THIS YEAR: We have added extra fun things to do onsite and offsite with participating companies. Be sure to check them out!
Onsite: Bandana Blinging Party Hosted by: Jennifer with Motorcycle Princess & Tracey with Blingin' Biker Babes Additional cost - Watch for details coming soon!
Offsite: Durango Rivertrippers & Adventure Tours: Create your own adventure on the water or in a jeep. Use discount code SWQ4 and receive 20% off every item they offer from Jeep tours to RZR rentals. Lots of options available to our group. Discount code SWQ4

Offsite: Mesa Verde Stables (Horseback Riding): Guided tours on Horseback. Discount codes coming in December - Stay tuned

**Event Schedule, Activities, Speakers - are subject to change without notice.


Accommodations:

Tent Camping - Free: Tent camping is included with your registration in designated tent areas. Just bring your own tent and personal comforts.
Don't have gear or want to carry it? We've got you!

Camping Equipment Rentals:
Check Outside - (970)946-6726 - www.checkoutside.com - info@checkoutside.com
Don't like or want to camp? We've got you! Cabin rentals and RV sites:

Echo Basin Resort - Contact Tom Carr - (970) 533-700 - http://www.echobasin.com
Don't have an RV? We've got you! RV Rentals:

Kodiak RV Rentals - Contact Kevin Overland - (970)-946-8882 - kodiakrental.com - 
Discount code: SWQ4
Prefer a hotel? We've got you! HOST HOTELS:
Mesa Verde Motel - (800)-825-6372 or (970)-533-7741, info@mesaverdemotel.com USE discount code: SWQ4
Ms. Kitty's Country Inn - (970)-403-6007, info@mskittyscountryinn.com USE discount code: SWQ4

Mancos Inn and Hostel - (970)-403-6007, www.mancosinn.com USE discount code: SWQ4

LOCATION INFORMATION:

Echo Basin Resort: 43747 Co Rd M, Mancos, CO 81328
Gates open: Thursday June 8, 2023, at 3:00 P.M. Early arrivals are not permitted. KSU Departure: Sunday June 11, 2023, at 10:00 A.M. Late departures are not permitted. If you plan on staying an extra day you must contact Echo Basin Ranch and make arrangements and pay their fees.

FAQ'S:

Tickets & Refunds: All attendees must have a General Admission Ticket! All ticket sales are final and non-refundable. Ticket transfers are allowed until 5/25/23. for the same cost of the original purchase price and must be submitted to us at: incahootsreg@gmail.com with the original purchaser's name and email and the new purchaser's name and email.
What is the age limit? Must be 21 or older to attend.
Can I bring my pet? Yes! You can bring your pet however you must make accommodations with Echo Basin Ranch and pay their fees. Please be sure to pick up after your pet and leave no messes.
This is a Women's only event… How come we see men there? Although this is an all-female event, you may see a few male staff members who support our female riders and staff; they are the Moto Recovery Team who donate their time to assist our attendees with tasks like trailering, loading, minor repairs, and set up-take down.
I am transgender, in the process of transitioning or identify as non-binary, can I still attend your event? Heck yeah you can!!! 100%!! "Women only" is our way of letting all Women know that they are welcomed at our event to celebrate our amazing moto sisterhood. 
I have dietary needs, what are my options? Great question, we try our best to have a variety of meals to accommodate all attendees however with so many personal needs based on choice, medical, and necessity we cannot accommodate all.  Our best recommendation would be that you have a backup plan and check out the menu at the Grill onsite at Echo Basin Retreat, and the restaurants in town as well as when in town. No discount will be given for needing food accommodations.
We look forward to meeting you all! Stay tuned for important event announcements and what's happening at the event soon.
I want to volunteer; how can I sign up? Shoot us an email! We love our volunteers and want to hear from you. Send us an email at: incahootsvolunteers@gmail.com
COVID-19 PANDEMIC CLAUSE: FORCE MAJEURE. Neither Party will be liable for any failure or delay in performing an obligation under this Agreement that is due to any of the following causes, to the extent beyond its reasonable control: acts of God, accident, riots, war, terrorist act, epidemic, pandemic, quarantine, civil commotion, breakdown of communication facilities, breakdown of web host, breakdown of internet service provider, natural catastrophes, governmental acts or omissions, changes in laws or regulations, national strikes, fire, explosion, generalized lack of availability of raw materials or energy.
Schedule / Venue Changes: We reserve the right to make schedule/venue changes at any given time and will announce those changes