---
---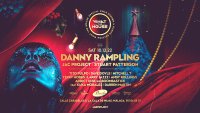 What The House return to Florida Beach for a Xmas cracker on Dec 10th and a Mijas debut for a true house music legend!
Danny Rampling is a founding father of not only the UK house scene but one of the most famous names in the house music World. His seminal party Shoom set the template for thousands of clubs and his Love Groove Dance Party show on Radio 1 on Saturday evenings were a must for house lovers for many years. Do not miss this very rare chance to catch a genuine Godfather of house playing on the Costa.

There is also the usual wonderful support from the  WTHouse Hit Squad of, Stuart Patterson, Tito Pulpo, Terry Hobbs, Andy Rollings, Mitchell T, Dave Doyle, Addict Disc, Boombastik and Larry Jazzz with Tito and Andy also celebrating their birthdays on this special night.
Music will be starting at 5pm, on the terrace and inside the restaurant, overlooking the med, just before sunset..... before we move inside for the final dance off of the year.
First release tickets sold out in record time and second release will go very quickly with the announcement of Danny so don't delay and get the 10th firmly in your diary!