---
Sold out
Ticket Type
Price (£)
Fee (£)
Quantity
---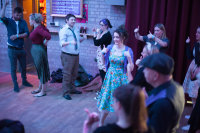 Come and join us for our popular Summer Course in Solo Authentic Jazz.
In this 5 week Level 1 course you will learn the following routines:
- The Shim Sham (as danced in our socials, upon your request!)
- Mama Stew
- The Jitterbug Stroll
By the end of the course you will be able to comfortably dance these routines at the next social dance. Lots of fun, lots of exercise and learning new skills & technique which work wonders for your partnered swing dancing.
VENUE: The venue is Moseley School and Fitness Centre, Springfield Road, Moseley, Birmingham, B13 4LR