---
Buy tickets
Ticket Type
Price ($)
Fee ($)
Quantity
---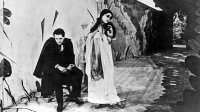 Bring a picnic, enjoy the sunset, and watch a movie every Tuesday through Friday. Doors open at 8 o'clock, film begins at 8:30.
TERROR TUESDAY / THE CABINET OF DR. CALIGARI
At a carnival in Germany, Francis (Friedrich Feher) and his friend Alan (Rudolf Lettinger) encounter the crazed Dr. Caligari (Werner Krauss). The men see Caligari showing off his somnambulist, Cesare (Conrad Veidt), a hypnotized man who the doctor claims can see into the future. Shockingly, Cesare then predicts Alan's death, and by morning his chilling prophecy has come true -- making Cesare the prime suspect. However, is Cesare guilty, or is the doctor controlling him?
Release date: March 19, 1921 (USA)
Director: Robert Wiene
Production company: UFA GmbH
Cinematography: Willy Hameister
Producers: Erich Pommer, Rudolf Meinert