---
---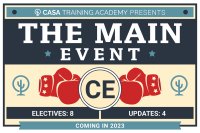 Continuing Education Event for North Carolina Home Inspectors.
The Main CE Event - Charlotte

Bundle all your continuing education requirements into one event at the same time and same location. TKO your CEs. We're providing 12 hours of CEs that meet your requirements for license renewal. All courses and instructors are approved by the NC Home Inspector Licensure Board and CASA Training Academy is an approved training sponsor HS140.
Register early and get ringside seats!

ADMISSION ~ Boxing Card
$149 Cyber Monday Deal ~ Ends 11/28
$199 Super Saver ~ Trainers Special
$249 Early Registration ~ Ringside Seats
$325 GENERAL ADMISSION ~ In your Corner

$0.00 CASA SEASON TICKET HOLDERS (Always free)