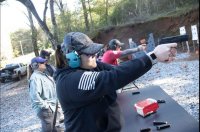 Foundations of the Self-Defense Handgun (Ladies Only)
August 5-6, 2023 (2 DAY)
Glasgow, Ky
$400.00
Must be 18 years old, legally able to own a firearm, or if under 18 must attend with a parent or legal guardian.

This course includes our core doctrinal methods and is essential for building a solid self-defense platform. Foundations is the first in a series introducing the participant to the "tactical" safety, tactics, equipment, attitude and marksmanship skills necessary for a solid foundations in the use of a self-defense handgun.
**IMPORTANT** 
Day 1 of this course will be virtual using ZOOM. Day 2 will solely be on the range in Glasgow so please plan accordingly. The virtual link for day 1 will be included in an email that will be sent out 5 days prior to class which will also include further instructions, map to the range and waivers.

Gear List
An open mind
A handgun in good working order. Preferably in 9mm or larger caliber
At least 3 magazines for pistols and 6 speed loaders or speed strips for revolvers
400 rounds of factory ammunition. (hand-loads need prior approval)
Eye Protection (Z87 certified is highly recommended)
Hearing Protection- Electronic hearing protection is ideal. Aids in Instruction
A hat with a brim
A sturdy belt and a holster (NO SERPA) that fits securely to that belt and the belt needs to be able to be secured to bottom garment
Knee pads if you intend to perform the kneeling and prone shooting positions.
Shoes for the range. Most of our ranges are gravel and can be tiring after a day on your feet
A cleaning kit recommended for your handgun
Bring some water for the day
We normally factor in time for lunch, but it can be a bit of a drive to a local establishment. It is recommended to bring lunch, and snacks.
A note pad for taking notes
A range bag to keep up with your equipment

FINANCING OPTIONS: If you would like to use a financing option, at check out follow the instructions "FINANCING OPTIONS." It will display payment instructions. Once you complete the purchase, which will reserve your spot, then you will receive a confirmation email. At the top of that email those instructions are repeated. Click on the link provided labeled "CLICK TO PAY," then complete your transaction using Klarna.

Klarna Disclaimer: This is a third-party company, not affiliated with The Bulwarks, LLC. Their rates and payment plans are NOT determined by The Bulwarks, LLC. Any dispute in payment must be directed to Klarna. The Bulwarks, LLC neither receive bonuses or commissions nor are we charged extra fees if you use them. This is merely an option should you need it. However, if you have trouble with the payment link or if instructions are not clear, you may contact our eCommerce Coordinator at cmccarthybeadnell@thebulwarks.com
CANCELLATION POLICY AND REFUND POLICY: (CUSTOMER) To cancel your reservation, send a request to our eCommerce Coordinator at cmccarthybeadnell@thebulwarks.com. In order to receive a full refund to your original purchase method, your cancellation request must be received at least 14 days prior to the first day of the course. If your request is received after that time or you fail to attend, a refund will be issued via a voucher that is good towards another course for only ONE YEAR. (COMPANY) The Bulwarks, LLC reserves the right to cancel or reschedule a course up to 14 days prior to the first day of the course for any reason. In this event, a full refund will be issued to your original purchase method. Courses are generally not affected by weather however, if staff determines that it is unsafe for instructors or students to travel, if course location is damaged, or any other unforeseen circumstances occur, the course may be rescheduled. In the event The Bulwarks reschedule's a course, tickets will be refunded via voucher that students can use towards the rescheduled course or another course.