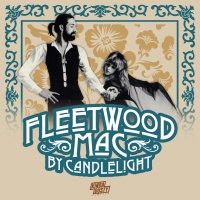 Fleetwood Mac by Candlelight comes to The Monastery, Manchester!

Saturday 8th April 2023 at 8.00pm

Featuring a cast of West End Singers and a live band, join us for a 'landslide' concert, jam packed with Fleetwood Mac hits as you have never heard them before!
This incredible show will feature best loved songs including 'Little Lies', 'The Chain', 'Rhiannon', 'Don't Stop' and many more, performed at the beautiful Monastery, Manchester by Candlelight.

So 'Go Your Own Way', release your inner 'Gypsy' and book your tickets now as this really is the concert of 'Dreams'!

VIP Tickets (£45.00) are for front two rows.
Premium Tickets (£40.00*) are in the first block of seating in front of the stage starting from row 3
Band A Tickets (£35.00*) are behind premium in the second centre block of seating from the stage

Band B Tickets (£30.00*) are rear nave tickets
Restricted View (£15.00*) are restricted view tickets
Access ticket- £30.00 (Includes free companion ticket)**
*subject to booking fee

This venue has a fully licensed bar.

Doors open at 7.15pm.
TICKETS ARE NON-REFUNDABLE AND NON-EXCHANGEABLE
**Access Ticket + Essential Companion - Anyone who needs support because of a disability or health condition can purchase an access ticket. This allows a complimentary ticket for an accompanying registered carer. See below for eligibility criteria.*

*Access Ticket Eligibility Criteria
Proof of eligibility documents we can accept (upon entry) include:
The Access Card from Nimbus Disability   
Hynt Card   
CEA Card  
UK Disabled ID Card / DID Card
National Rail Disabled Persons Railcard  
Disabled Person's Freedom Pass  
Local travel pass for disabled customers  
Blue Badge (both sides)
Certificate of Visual Impairment or Dual Sensory Impairment  
Official confirmation in writing that you are Deaf or use a hearing aid, such as a battery prescription
Assistance Dog ID Book
Evidence of receipt of government benefits for reasons of disability, which could include:
Front page of Disability Living Allowance at any rate  
Front page of Personal Independence Payments (PIP) at any rate 
War Disablement Pension or War Pensioner's Mobility Allowance  
AFIP (Armed Forces Independence Payment)  
Continuing Healthcare Package letter
Employment and Support Allowance or Severe Disablement Allowance letter
Attendance Allowance letter  
Direct Payments award for reasons of disability  
Social Care Package award for reasons of disability  
An official, signed document or letter from a GP, social worker, nurse or other medical professional confirming a disability as defined by the Equality Act (2010)
An equivalent international document or ID card.
Essential Companion Criteria
Please note this is not a buy one get one free scheme but a reasonable adjustment to enable you to attend events you would otherwise not be able to.
The support needed must be due to disability-related needs, significant and in excess of what could be reasonably expected of family or friends already accompanying you.
To book Essential Companion tickets you must provide (upon entry):
Nimbus Disability / CredAbility Access Card with the +1 symbol
Wheelchairs can be accommodated in access seating. Chairs can be provided for those who are ambulant or who are able to transfer.