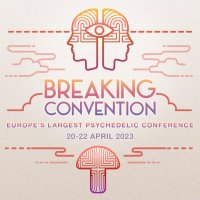 BREAKING CONVENTION 2023
Are you interested in discovering information about the results of psychedelic research? 
Breaking Convention 2023 is a three-day event, and will be the sixth edition of Europe's largest conference on psychedelic research. 
A multidisciplinary conference, Breaking Convention features lectures covering the full range of psychedelia; scientific rigour alongside cultural explorations, from academic and independent researchers. First held at Canterbury in 2011, then the splendid surroundings of Greenwich, we continue moving west... to Exeter!
At Breaking Convention 2023, you will encounter practitioners from a broad range of psychedelic engagement, from academics giving formal lectures to performers, artists, dancers, and musicians. BC23 will also feature immersive theatre, workshop sessions, as well as cutting edge video and VR installations for you to experience.
With over a hundred speakers covering multiple psychedelic disciplines, you can expect to meet exciting emerging postgraduate students, leading lights of the research world, philosophers, celebrity chemists, clinicians, therapists, historians, legal professionals, business people, musicians, cultural practitioners and theorists, artists; keen enthusiasts and advisers of caution.
You'll find plenty of quality conversations, friendly faces, moments of awe and wonder, quiet spaces for reflection, and a great afterparty!
SPEAKERS
People already confirmed include:
Paul Stamets / Jonathan Ott / Amanda Feilding / Rick Doblin / William Leonard Pickard / Carl Hart / Deborah Mash / Erik Davis / Pamela Kryskow / David Erritzøe / Graham Hancock / Darren Le Baron / Graham St John / David Luke / Rupert Callender / Saj Ravzi / Hattie Wells / Susan Blackmore / Ben Sessa / Celia Morgan / Chris Letheby / Akua Ofosuhene / Chris Timmermann / Moudou Baqui / Liana Gillooly / Kirran Ahmed / Frederike Meckel-Fischer / Leor Roseman / Jackie Anderson / Tomasso Barba / Bruna Gibaldi / Natasja Pelgrom / Peter Sjöstedt-Hughes / Christine Hauskeller / Adam Aronovich / Jennifer Sodini / Genís Oña / Alexander Beiner / Nikki Wyrd / Julian Vayne / Aimee Tollan / Ashleigh Murphy-Beiner / Rosalind Stone 
PLUS MANY, MANY MORE!
We have four lecture rooms running throughout the conference, as well as a dedicated cinema room (featuring presentations by the filmmakers), and two workshop spaces. Philosophy will form a major strand of our programming, with sessions on Ethics, Mind and Metaphysics.
Not only will you be able to attend lots of amazing talks over the weekend, but also: expert-led workshops; a visionary art exhibition including live painting; interactive installations; psychedelic cinema; stalls selling psychedelic wares from books to jewellery to clothes and beyond; evening events including book launches; and on Saturday our spectacular afterparty, with live music from renowned DJs.
To get a taste of our past events, check out our YouTube channel: Breaking Convention
For more information about our charity, visit our website at Breaking Convention
The BC23 app is in preparation, and will include up to the minute details of talks and events, alongside all the Conference Information; your one-stop portal to all you need to know on the day! Everyone also gets a printed programme, full of useful details and a great souvenir of the event.
LOCATION
The University of Exeter is home to the first taught undergraduate psychedelics module in the UK. The campus offers a top-notch conference venue with state-of-the-art lecture theatres, a purpose-built cinema room, superb large spaces for art and performances, and a dedicated area for market stalls.  Catering will be available on site, and the beautiful mediaeval city centre of Exeter has plenty of shops and restaurants offering a wide range of options for evening meals with friends and colleagues. Exeter's university campus sits comfortably within the city of Exeter, so you can easily catch a bus or even walk to the historic centre.

ACCOMMODATION
The UoE Streatham Campus is on a hilltop very close to the centre of Exeter. The city has many hotels and other accommodation options from budget to luxury, and it's easy to commute in each day in a matter of minutes. You can walk (though in the morning it is rather uphill so not possible for everyone!), drive, or catch a bus. 
(The on-campus accommodation is now full, and there is a waiting list for any rooms that become free. Please direct all queries regarding the Holland Hall rooms towards Event Exeter who manage them: eventexeteraccommodation@exeter.ac.uk)
TRAVEL
We advise you use public transport to reach the University of Exeter.
Whether you choose planes, trains, automobiles or coaches, Exeter is only 150 miles southwest of London, and can be reached by direct transport links from the capital, as well as from Bristol (which also has an airport). Further information on travel options will be provided once you have bought your ticket, including details of the special £44 London-Exeter Open Return train ticket offer!
Parking is available on-site, see https://www.exeter.ac.uk/visit/directions/carparks/ for charges and other information. (Note: those staying in Holland Hall have a parking permit included in their booking).
Buses run to the conference several times an hour. A map showing the route of the UNI bus service can be found here: https://tiscon-maps-stagecoachbus.s3.amazonaws.com/RouteMaps/South%20West/ExeterNetwork.pdfThe bus stop is North Park Road, Stop ID: dvngjamt 
Walking is an option for the very energetic (though in the morning be warned it is rather uphill, so not possible for everyone!).


ACCESSIBILITY
The entire venue is wheelchair accessible, as is the on-site accommodation. Lecture theatres have hearing loops installed. The front row of all lecture rooms will be reserved for those requiring seating near to the speakers. 
If you have any accessibility needs, please contact us in advance to see how we can assist your attendance.
Accompanying carers and personal assistants are welcome to attend free of charge, please contact us: admin@breakingconvention.co.uk

TICKETS
This year we have a tiered price system; Concession, Standard and Benefactor. By purchasing a benefactor ticket you are supporting those who cannot afford a standard price ticket, and we would like to express our huge gratitude to those of you in a position to do this.
Concession groups are here defined as students, blue light service personnel (including police, nurses and NHS staff), and the unwaged. You may be asked to provide documentary proof at the reception desk.
All tickets provide full access to the 3 days of talks and all evening events, and a BC Welcome Pack; limited edition tote bag, notepad and pen, a souvenir-quality printed programme, and our biennial collection of essays. 



EVERYTHING ELSE
If you still have a question, first please read the information above again, carefully! If you still can't find what you're looking for, please get in touch with us at admin@breakingconvention.co.uk
We aim to respond to all enquiries within a few days.
We at Team BC cannot wait to see faces familiar and fresh at BC2023. As the world moves into this next phase of reimagining itself, gatherings like this can help catalyse our collective creative thinking. This is an important time for the psychedelic current so get your ticket now, don't miss out on this amazing event!
___________________________________________________________________________________________________________________________
PARTICIPATING & CALL FOR PAPERS
The deadline for submissions and participation has now passed. Huge thanks to the hundreds of people who answered our callout!
We will be replying to each of you as soon as possible, as we realise you need to make plans for transport etc.
Deadline for all participation forms was 31st January 2023. You should have heard regarding your submission by now. If not, please check your spam folder first, then contact us at admin@breakingconvention.co.uk