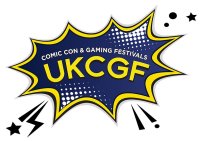 Same location as 2022 but with having a summer date we're adding outside and marquee areas to expand on the space and add more to the event.
Prices reflect that this is one of our smaller events.
Fabulous exhibitors and props.
UK based comic artist guests, some film and tv guests and cosplay guests.
Cosplay and costume groups 
Great props and activities.

AGE 13 AND UNDER MUST BE ACCOMPANIED BY AN ADULT ALTHOUGH WE HIGHLY RECOMMEND AN ADULT IS WITH ALL UNDER 16S

Carer options for individuals who may have mobility, physical, vision, hearing, cognitive, psychological, invisible or other types of disabilities are all taken into consideration for extra support. We hope you can understand that we have to ensure that the right people are able to receive help at the show so we require evidence in the format of one of the below documents to be shown upon entrance with your valid entry ticket.
Disability Living Allowance (DLA) award letter
Attendance Allowance (AA) award letter
Blind Persons Registration
Personal Independence Payment (PIP)
Armed Forces Independence Payment
A current and valid Blue Badge (photocopy of both sides)
A medical letter from your doctor or consultant explaining your reasons for needing extra assistance
BOURNEMOUTH
BH ACTIVE LITTLEDOWN CENTRE
Cosplay Zone
Comic guests
Film/Tv guests up soon!
Make geek
SEGA Zone
GamersBus
UK Garrison Star Wars group
Joker Squad Star Wars displays
Dinosaur photo op backdrop
Dinosaur Zone
Angel Effects Costumers and displays
Batman Displays
Anime photo ops
Black Rifle Airsoft Range
Gaming4u retro zone
Tabletop gaming zone
Pokemon photo op and displays
Lightening McQueen car
Steampunk backdrop photo op