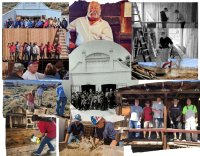 Visit the historic Sutro Tunnel site and see our progress! We are revitalizing and restoring the site and Tunnel daily. You are seeing history in the making and will be able to be a part of it by visiting the site.
You will be given a guided tour by our docents Dan Webster (author of Mills Along the Carson River) and Pat Neylan (co-curator/docent at
St. Mary's in the Mountain's Museum in Virginia City and local historian).
Learn the history of Adolph Sutro and how this famous tunnel came to be. You will see historic machinery that has stood the test of time, an electric mule ore cart, the historic buildings of the site, our private lake that is fed from the still running water from the tunnel, the foundation from Adolph's mansion, our museum, plus much more and the iconic Sutro Tunnel Portal.
Historic places like this are fading to time and being pillaged. Thankfully, this 28 acre site has been donated to our non-profit organization, the Friends of Sutro Tunnel. 
Because of you, purchasing a ticket and visiting the site, we are able to fund the restoration efforts and soon we will be able to go into the Tunnel itself.
Thank you for supporting us, the community and Nevada's history.
We also offer private tours and events, contact us to learn more.
Visit our website, to learn more. https://thesutrotunnel.org/
A 3-D rendered and Lidar video of the Sutro Tunnel and Site:
We're opening the Tunnel!
&t=1s