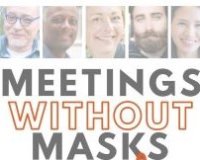 Meetings Without Masks  led by Bethan Evans  

Please read the information about ticket types & cancellation policy at the bottom.        
Are you looking for love, connection, intimacy, relationship?
Are you finding it hard to meet the right person?
Have you tried the apps, speed dating or the singles scene and felt it ring a bit hollow? Are you looking for more but not quite sure how to find it?
It can be tough to make real connections in our busy lives. Pubs, clubs and the dating industry can feel like a market place.
So where and how do we find and meet each other in a different way?
MEETINGS WITHOUT MASKS is the answer.
This event has been specifically designed and developed to provide a very different kind of experience for people who are looking for love and partnership.
In a gender-balanced group, we will explore how to meet each other more authentically. The day has been carefully structured to help this happen, with fun and creative exercises to open and relax you. Devised by coach and relationship expert, Jan Day, it is safe, supportive and both professionally and compassionately delivered.
Whether you meet your soul mate or not, it is a great opportunity to enjoy, and maybe risk, being a little (or a lot!) more intimate and human and alive.
TICKET DESCRIPTIONS AND CANCELLATION POLICY

In order to get a gender balance on the day, there is an intricate ticketing system!  Here is a description of the different tickets and the cancellation policy which applies to each.   If you don't identify as cis-gender or heterosexual you are welcome, please contact Bethan to discuss how to get the most from the day.
Women's ticket & Men's ticket

These are the tickets to buy if you want to guarantee your place.  For these full price guaranteed-place tickets:
 - Tickets cancelled by the purchaser 15 days or more before the event would be refunded in full minus £25 admin fee
 - Tickets cancelled within 15 days of the event would be forfeited ie no refund available unless a suitable replacement should be found, in which case a refund could be made, minus £25 admin fee
Waiting list tickets are full price if and when they become available. Once paid for, a waiting list ticket is effectively a full price guaranteed-place ticket and the same cancellation policy applies.  If there is no place to offer you for this date, you will be offered to transfer to the waiting list for another date, or to receive a full refund.
Standby tickets are available so cheaply because you may not know whether or not you will get a place until as late as the evening before the event!  You would be refunded in full if there were no place available on the day.   
 A standby ticket cancelled by the purchaser 15 days or more before the event would be refunded in full minus £25 admin fee.  If cancelled within 14 days or if a place is offered by 6pm the day before the event and not taken up, the ticket is non-refundable.